By Jim Kavanagh
CNN





(CNN) -- Barb and Chuck Matthees are getting out.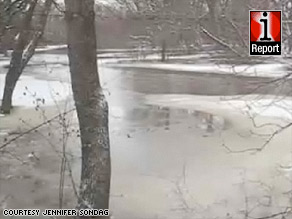 The Red River creeps higher in iReporter Jennifer Sondag's parents' neighborhood in Moorhead, Minnesota.
Authorities told residents to evacuate their neighborhood in Moorhead, Minnesota, across the Red River from Fargo, North Dakota, because dikes in the area may not hold back floodwaters.
"That's what we're doing, yup," an incongruously cheerful Barb Matthees chirped Friday morning.
"What can you do?" she asked. "You just look at the facts and pick stuff up and hope for the best. The bottom line is, everybody's safe. Some stuff is going to get wet, I guess, but what can you do? It's just stuff. ... I guess I'm not all that sentimental."

Watch preparations grow more frantic »
Matthees' daughter, iReporter Jen Sondag, is having a harder time coping.
"I'm a little bit scared," Sondag said. "I just keep trying to tell myself that it's just stuff. If the house gets flooded, it's just stuff, and stuff can be replaced.
"But it's hard. You know, you hear that all the time when you're not in the situation, but when you are in the situation, it's really hard to grasp that concept and really accept it."
Sondag lives with her husband an hour away in Pelican Rapids, Minnesota. But she routinely spends two or three nights a week in her parents' home because of a long commute to her job in Fargo.
Don't Miss
"I have a lot of stuff from my past that's still there," including her wedding dress, she said.
Officials raised the forecast river crest to 43 feet Thursday night. The Matthees' garage is at about 39 feet, and the first floor is about a foot higher, Sondag said. If the water rises to 43 feet, they could have a full basement and 3 feet of water on the main floor.
After several days of hard work slinging sandbags to protect the neighborhood, Sondag found the evacuation order disheartening.
"I'm just really mostly sad about it," she said. "It feels like we're just giving up. I know there's that point where it's just stupid to keep fighting if our safety is in jeopardy, but there's a big part of me that just wants to keep fighting. So it just makes me sad that we're told not to fight anymore."

Watch what other iReporters are seeing »
But some say there's no use trying to fight the frigid water with sandbags, leaving evacuation the only life-saving option.
"You cannot depend on a sandbag dike to save your life. You put it up to try to save your property. Once you put it up, you need to leave, because that sandbag dike could break at any given time," said Lt. Gen. Russel Honore, who led the military response to hurricanes Katrina and Rita in 2007.
"The effectiveness of the sandbags deteriorates with the cold water because they don't hold the water in. They start leaking, and a leak turns into a flow, and a flow turns into a break."
Patt Frantz lives in a newer development in south Fargo that sits between the Red and Wild Rice rivers, but her house should be safe from the water because of flood-control measures, she said.
"If it comes to get me, you're talkin' Ninth Ward," she said, referring to the part of New Orleans, Louisiana, that was inundated by Hurricane Katrina in 2005.
Should the waters rise beyond forecasts, residents will be hemmed in, she said.
"You can't go to the east because all the roads are diked," she said. "And because the river runs north, all the roads north are diked. But, the river already flooded south, so all those roads are diked. You cannot go east and you cannot go south. ... And you can't go west because the Sheyenne is spilling over its banks, and so is the Wild Rice, so it's dikes that way. ...
"Plus, why would you want to go there?" she added. "They have all these floods from all these other rivers that are in the state. In Mandan, you have the mighty Missouri flooding. So you can't go that way."

See water rising in Oxbow, North Dakota »
Wade Baird was worried that he and other volunteers would not be allowed to go out to fortify dikes Friday.
"They're starting to put travel restrictions on people and not letting volunteers go out and sandbag as much," Baird said Friday morning. "They're wanting no traffic out there, to get the trucks through as quick as possible."
He and several Microsoft work buddies spent all day Thursday filling sandbags at the Fargodome. They left to work on protecting some of their own homes.
"There's a big change in the mood of the people [his co-workers] who actually live in Fargo," Baird said. "People are less hopeful now and a lot more nervous about their houses actually getting flooded."
Barb Matthees is not sure where she and her husband are going to go. One son lives about a mile away.
"Unfortunately, one of his roommates has chicken pox, so that might not be a good choice," she said with a laugh.

Despite the evacuation, Matthees said, she doesn't feel defeated.
"No matter how wet we get, I'm not going to say we lost any battles," she said. "No matter how wet we get, we won't ever forget all the people who have been here to help."
E-mail to a friend

All About Minnesota • Fargo • Floods • Microsoft Corporation