(CNN) -- The arctic air hovering over the southeastern United States on Wednesday will bring bitter cold by nightfall and a hard freeze warning for much of Florida that could kill crops and sensitive vegetation, forecasters said.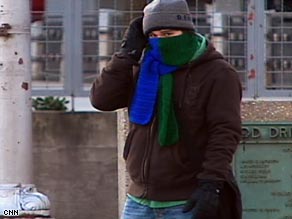 A pedestrian bundles up against the cold in Atlanta, Georgia, on Wednesday.
Low temperatures east of the Mississippi River will be in the upper teens to low 20s, as cold air makes its way from Canada to the Florida Keys, according to the National Weather Service.
The hard freeze warning in Florida takes effect at 10 p.m. Wednesday and will last six to 10 hours. Another hard freeze is expected Thursday night.
A hard freeze warning means temperatures below 27 degrees are expected for at least two hours. The warning also affects much of Alabama and southern Mississippi.
Despite the cooler temperatures, the weather service said the danger of wildfires was high.
It issued a red flag warning for the Florida Panhandle, southeast Alabama and southwest and south-central Georgia, meaning that a long period of low humidity and gusty winds will create critical fire conditions.
"A very cold and dry air mass in the wake of a cold front will lead to red flag conditions each afternoon through Friday, even though afternoon temperatures are only expected to reach the mid to upper 40s on Wednesday.
Don't Miss
"The extremely dry air mass will result in relative humidity values in the teens to single digits across the entire area today," forecasters said.
Snow covered the northeast on Wednesday, with Philadelphia, Pennsylvania, receiving 8 inches, eastern Massachusetts 6 inches, and Boston, Massachusetts, over 4 inches.
Significant warming is expected in the Midwest and Kentucky later this week. Kentucky is still recovering from an ice storm last week that was blamed for at least 16 deaths and left more than a quarter of a million people without power.
The acting head of the Federal Emergency Management Agency on Wednesday will tour areas of Kentucky damaged by last week's ice storm.
Nancy Ward will travel to Grayson County, in the central-western part of the state, said Jill Midkiff, a spokeswoman for Gov. Steve Beshear.
Ward will then hold a joint briefing with Beshear at 4:30 p.m. ET in Frankfort, Midkiff said.

The governor has called the storm, which is blamed for 16 deaths, "the biggest natural disaster that this state has ever experienced in modern history."

See images of the ice storm's aftermath »
Ward's visit comes as electricity is returning to some Kentuckians. As of early Wednesday, some 208,335 customers were without power, down from about 700,000 at the peak of the outage, the Kentucky Public Service Commission said.
E-mail to a friend

All About Winter Weather • National Weather Service • Kentucky