LOUISVILLE, Kentucky (CNN) -- Chilling winds and more snow were expected for Kentucky on Tuesday, bad news for more than a quarter of a million people still without power after an ice storm.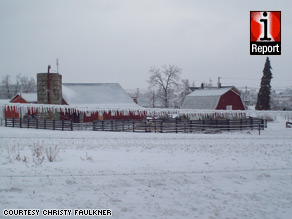 Ice covers nearly everything in Elizabethtown, Kentucky, Tuesday.
Forecasters said as much as 3 inches of snow could fall in areas of Kentucky, one of several states dealing with snow.
The snowfall could hamper efforts of Kentucky National Guard troops that have been going door-to-door to check on families. The storm has been blamed for at least 16 deaths, several from carbon-monoxide poisoning caused by exhaust from generators, authorities said.
Kentucky Gov. Steve Beshear has called the ice storm "the biggest natural disaster that this state has ever experienced in modern history."
Beshear toured areas in western Kentucky over the weekend, the hardest hit area, where National Guard troops also were focusing their efforts.
In a statement, Beshear said the call-up of troops "represents the strongest possible effort to relieve human suffering and ensure the safety and well-being of our citizens." iReport.com: Share photos of icy, snowy weather in your town
One of the people guard members checked on was 83-year-old Paul Jenkins, who was using water stored in buckets, had no power and was relying on kerosene for heat.
Call for help
Within Kentucky, call:
United Way: 211 (most areas)
Kentucky Division of Emergency Management: 502-607-1600

"When we lose power, we're in trouble 'cause all we got is electric," said Jenkins, who lives in Breckinridge County west of Louisville.

Kentucky wasn't the only place battling icy conditions. The National Weather Service put out winter storm advisories Tuesday for areas in Wisconsin, Minnesota and Virginia.

In many areas, trees remain in roads or even on homes. Louisville resident John Randolph pointed to tree branches that fell onto his two-story suburban home.

"Just the overall power of the branches falling was actually pretty frightening" when the ice storm was setting in, Randolph said.

He added: "The baby slept through the night and didn't wake up once. My wife and I, once we heard the first branches falling, we didn't go back to sleep the whole night. We didn't know what to do. ... Ultimately, we sort of just stayed in our bedrooms, and I just kind of went outside periodically and assessed the situation."

Randolph's home -- which escaped serious damage -- is among those without power.

See images of the ice storm's aftermath »
Arthur Byrn, mayor of Mayfield -- one of the cities suffering from the storm -- told CNN Radio that authorities were conducting a "door-to-door welfare check of the entire Graves County area, which is 38,000 people."
Graves County is in the southwest corner of Kentucky, near the Missouri and Tennessee lines.
Byrn said it could take as long as two months for the county to have 100 percent of its power back. iReport.com: Tour ice storm damage in Elizabethtown, Kentucky

"It's quite disconcerting to go out at 7 o'clock at night and not see a light anywhere other than [a headlight] coming down the street," Byrn said.
"Devastation is sometimes an overused word, but I would say that's what we had."
E-mail to a friend

CNN's Susan Candiotti and Andy Rose contributed to this report.
All About Winter Weather • Kentucky