LOUISVILLE, Kentucky (CNN) -- National Guard troops were going door to door Sunday in Kentucky, checking on families in the worst-hit areas of what Gov. Steve Beshear called "the biggest natural disaster that this state has ever experienced in modern history."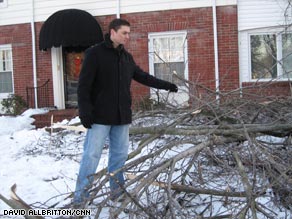 John Randolph moves fallen branches at his home in the Louisville, Kentucky, area Sunday.
The devastating ice storm has been blamed for at least seven deaths in Kentucky, Beshear said. In total, 21 deaths have been reported in the state since the storm hit on Tuesday, but authorities could not immediately confirm whether all were directly storm-related.
The "unprecedented" call-up of the National Guard includes 4,600 troops in various roles.
Of 120 counties in the state, 92 had declared emergencies, the governor's office said. More than 400,000 customers were without power.

See images of the ice storm's aftermath »
Temperatures were higher Sunday -- in the 40s -- which meant some relief, but also new problems. Melting ice and snowcan make it more difficult for utility trucks to reach certain areas.
And the National Weather Service warned of another potential problem: winds that could knock down loose trees.
"Although not particularly strong, winds between 10 and 15 mph can be expected later this morning and through the early evening over areas affected by the recent ice storm last week," the NWS said.
Louisville resident John Randolph showed CNN tree branches that fell onto his two-story suburban home.
"Just the power and the ... crunch and the crash and ... just the overall power of the branches falling was actually pretty frightening" when the ice storm was setting in, he said. iReport.com: Share photos of icy, snowy weather in your town
He added, "The baby slept through the night and didn't wake up once. My wife and I, once we heard the first branches falling, we didn't go back to sleep the whole night. We didn't know what to do. ... Ultimately, we sort of just stayed in our bedrooms and I just kind of went outside periodically and assessed the situation."
Randolph's home -- which escaped serious damage -- is among those without power.
Don't Miss
Beshear planned to visit areas in the western part of the state, the hardest hit region, where National Guard troops were also focusing their efforts.
"The troops have been instructed to attach green tape to the homes in which residents have sufficient food, power, water or communications. Red tape will be used to indicate homes where shortfalls exist," according to a Kentucky Air National Guard news release.
"Houses marked with red tape will be reported to local emergency operations centers and will be placed on a list to be resurveyed for on-going support based on county capabilities."
Arthur Byrn, mayor of Mayfield -- one of the cities hit hard by the storm -- told CNN Radio that authorities were conducting a "door-to-door welfare check of the entire Graves County area, which is 38,000 people."
He said it could take "as much as two months" for the county to have 100 percent of its power back.
"It's quite disconcerting to go out at 7 o'clock at night and not see a light anywhere other than [a headlight] coming down the street," Byrn said.
He added, "Devastation is sometimes an overused word, but I would say that's what we had."
Jamie Gunnels, who was staying in a Louisville shelter with her 18-month-old son, said it was "entirely too cold" to stay in her house without power.
"We were sitting there being thankful that we still had power," she said. "A few minutes after we said we were thankful we had power, it went out."

Watch how people are helping one another »
Louisville Mayor Jerry Abramson said four people had died in his city. Two elderly people and their special-needs adult child died because of an "improperly vented" generator, and another person died after using a charcoal grill as a heater for the house.

Abramson said authorities were trying to let people know it's dangerous to take generators and grills inside.
"It can kill, and it has, unfortunately," he said.
E-mail to a friend

CNN's Susan Candiotti and Andy Rose contributed to this report.
All About Winter Weather • Kentucky