(CNN) -- Frigid air gripped cities from the Canadian border to Florida on Wednesday, with some cities posting record lows.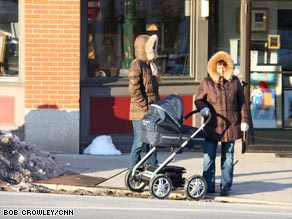 People endure the cold Wednesday in Brookline, Massachusetts, where the temperature was 20 degrees.
Snow in cities such as Indianapolis, Indiana, brought rush-hour traffic to a near-standstill.
Records were posted in the Michigan cities of Flint, at 19 below, and Saginaw, 10 below, and in parts of the Lower Mississippi Valley, where places like Hot Springs and Monticello, Arkansas, were in the low 20s, said Andrew Orrison, a meteorologist with the National Weather Service.
He was unable to immediately access the previous records.
Subzero temperatures were accompanied by wind chills as low as 40 degrees below zero. The wind chill factor describes the combined effect of the wind and cold temperatures on exposed skin, making the temperature feel colder than it is.
"The temperature outside is unbelievable," said Jennifer Flesher of Princeton, Illinois, where she said the temperature was 8 degrees with a wind chill of minus 12. "I went outside to use a snow blower, and my lungs actually started hurting. It catches your breath."
Minneapolis, Minnesota, posted a reading of 19 below zero, and it was 14 below in Fargo, North Dakota, where the wind chill made it feel like 31 below, said CNN meteorologist Chad Myers.
Orrison said most temperatures were below zero in the Upper Midwest through the Great Lakes and into the Northeast. iReport.com: What's the weather like near you? Send photos, video
The worst is yet to come, he said.
Don't Miss
The coldest air of the season will sweep down through the Upper Midwest and settle over the East and South -- reaching as far at the Gulf of Mexico -- in the next two days, he said.
The frigid conditions will last through the weekend, with cold weather in store for the presidential inauguration in Washington on Tuesday, Orrison said. The Midwest is expected to warm up later Sunday.
"The temperatures are way below normal," he said, "but we are at the point in the winter where we see the coldest temperatures for the nation."
In Indianapolis, it began snowing before the morning rush hour.

"I was on [Interstate] 465 and ... honestly, the traffic, we were going 10 miles per hour. It took me about a half an hour just to get to the next exit," one woman said. Snow accumulation of about 3 inches was expected.
Forecasters predicted dangerously cold conditions through Friday morning in Wisconsin. Although there already were frigid conditions in the state, another wave of Arctic air was to move in Friday night.
E-mail to a friend

All About Winter Weather