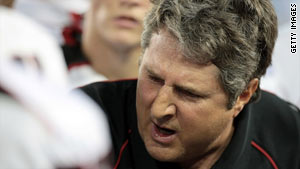 Texas Tech coach Mike Leach was fired Wednesday amid allegations of his mistreatment of an injured player.
STORY HIGHLIGHTS
Letter: Texas Tech coach Mike Leach was terminated for breaching performance clause

Leach was suspended by university amid alleged mistreatment of injured player

Firing comes as team prepares to play Saturday in Alamo Bowl

(CNN) -- Former Texas Tech Head Football Coach Mike Leach was fired Wednesday for breaching performance provisions in his contract, according to his letter of termination, obtained by CNN.
Leach was fired two days after the school suspended him while it investigated allegations that he mistreated an injured player. Texas Tech, in Lubbock, Texas, has not said whether the investigation was completed, or what the findings were.
The one-paragraph document states that Leach was terminated with cause for breaching Article IV of his contract.
The pertinent article, titled "Performance," in part states, "Coach shall assure the fair and responsible treatment of student-athletes in relation to their health, welfare and discipline. Breach of such rules and standards, whether willful or through negligence, may be subject to disciplinary action and penalties" including termination.
The article also states that Leach, "in the performance of his duties, shall conduct himself at all times in a manner consistent with his position as an instructor of students."

Video: Texas player took video

Video: Texas Tech coach fired
The termination letter is signed by Texas Tech President Guy Bailey.
The letter was handed to Leach's attorney, Ted Liggett, right before a scheduled court hearing to considered Leach's request for a temporary restraining order for the suspension, that would have allowed him to coach Texas Tech in Saturday's Alamo Bowl in San Antonio, against Michigan State.
Leach's firing made the hearing unnecessary.
A court document filed by Texas Tech, arguing against the temporary restraining order, shed some more light onto what transpired behind the scenes.
After allegations surfaced that he made receiver Adam James stand inside a storage shed after James was diagnosed with a mild concussion, Bailey and Athletic Director Gerald Myers met with Leach, the document states.
The university officials handed Leach a letter listing guidelines that the coach would have to follow, including letting a physician decide whether injured players would sit out practice.
It also stipulated that Leach would not retaliate against any injured students.
Leach's actions "may have been injurious to (James') health and served no medical and/or educational purposes," the letter says. "In addition to being unacceptable, if proven, these allegations constitute a breach of your employment contract."
Leach refused to sign the letter, and was suspended as a result, according to court documents.
Texas Tech's response to the restraining order question was signed by Texas Attorney General Greg Abbott.
Leach's attorney gave CNN affiliate KCBD a tour of the "shed" where James was placed, saying it had more in common with a garage than a shed. The structure is big enough to hold a vehicle, and has an cooler and fan in one of the walls.
Texas Tech officials "don't want the public hearing the truth," Liggett, the attorney, told KCBD.
Sources have said that on a second occasion, James was made to stay inside of an electrical closet.
Liggett described the area as a "media room," where reporters interview coaches and players.
"He had water, he was comfortable," he said.
Another factor drawing attention to Leach's treatment of James is that the player is the son of former college and NFL player Craig James, currently a commentator for ESPN.
The alleged treatment of James has stirred debate in the national media.
However in Lubbock, a city of 200,000 in the Texas Panhandle plains, fans appeared of one mindset -- Leach is their man.
"It's a sad day. Leach has done a lot of good things for Lubbock and a lot of good things for Texas Tech," Jim McClain, manager of a bowling alley in Lubbock told CNN.
At Skooners Grill and Bar, resident Chase Crowder said that many in town believed that Leach was simply following a medical recommendation that James stay out of the sun because of his concussion.
"He's following doctor's orders and he's fired for that," Crowder told CNN. "I would say most people are behind Leach."
Some fans believe that pre-existing tensions had a role to play in the coach's firing as well.
Last year, Leach flew to Seattle to interview for a coaching vacancy at the University of Washington without telling anyone at Texas Tech.
"Something is going on, nobody's being clear about it," Crowder said.
Leach is widely known beyond Texas Tech not only because of his success on the field, but also for his colorful commentary.
When Texas A&M defeated Texas Tech 52-30 in October, Leach said his players underestimated A&M, and blamed their "fat little girlfriends" for distracting them.
"Leach is just one of those free-spirit coaches, I think," Lubbock native Bobby Hurcheson told CNN.
He, too, sided with the fired coach.
"Locally, the bad guy here is James and his son," he said.