Times Square gets all-clear after van investigation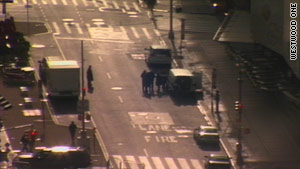 Authorities examine the van parked in New York's Times Square on Wednesday.
STORY HIGHLIGHTS
White van may have been parked in same spot for two days
Illegal plaque in front window; tarp covering inside, police say
Vehicle parked at 42nd Street and Broadway in New York
New York (CNN) -- Police concluded that a suspicious white van parked on Times Square posed no threat and reopened the flow of traffic that had temporarily been interrupted Wednesday.
Police blocked off a section of the famous square and evacuated some buildings as they investigated the vehicle, which had apparently been parked in the same spot for one or two days.
According to Det. Martin Speechley of the NYPD, an unofficial plaque was displayed in the front window of the van and a tarp was covering the inside. There was a temporary license plate on the rear of the vehicle, Speechley told CNN.
Video footage showed officials examining the van, which was parked at 42nd Street and Broadway.
Security in the area is tight as preparations are made for the huge New Year's Eve celebration that will be held there Thursday night. The party is usually attended by thousands of people.
CNN's Poppy Harlow and CNN Radio's Ninette Sosa contributed to this report.