Brazilian court halts return of boy to U.S., father says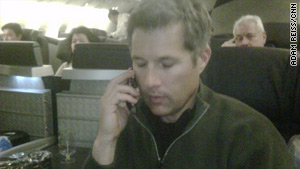 David Goldman appears aboard a jetliner flying to Brazil.
STORY HIGHLIGHTS
NEW: Brazil's highest court has halted Sean Goldman's ordered return, his father says
NEW: "This ruling ... has nothing to do with the merits of the case," David Goldman says
NEW: It was unclear whether the high court's ruling is a permanent order
A lower court had upheld a decision ordering the boy, 9, reunited with his father
Rio de Janeiro, Brazil (CNN) -- Brazil's high court has halted the return of a 9-year-old boy to the United States, his American father told CNN.
Thursday's ruling comes one day after a lower court unanimously upheld a decision last June by the 16th Federal Court in Rio de Janeiro, which ordered Sean Goldman returned to his home with his father, David Goldman, in New Jersey. That decision was made in accordance with the 1980 Hague Convention on the Civil Aspects of Child Abductions.
"It is very, very discouraging," David Goldman told CNN's Wolf Blitzer. "I'm very disappointed. This ruling ... has nothing to do with the merits of the case."
It was unclear whether the high court's ruling is a permanent order or if Sean Goldman is being ordered to stay during the appeals process.
The custody battle began in 2004, when David Goldman's wife, Bruna Bianchi, took their 4-year-old son from their home in New Jersey to Rio de Janeiro for what was to have been a two-week vacation. She never returned, instead remarrying there and retaining custody of their son. She died last year in childbirth.

Video: Dad wins custody of son

Video: Has custody fight come to end?
Goldman has argued that, as the sole surviving parent, he should be granted custody. But the boy's stepfather and his other Brazilian relatives have argued that it would be traumatizing to the boy to remove him from what has been his home for most of his life.
U.S. Rep. Chris Smith, R-New Jersey, who has been pressing the case for his constituent, said there's a possibility the high court will re-examine the case Friday or Monday.
"There are many people on the Brazilian high court who understand the Hague Convention on child abduction," he said on CNN's "Situation Room."
"This is a ... temporary -- disappointing, but temporary -- bump in the road."
Earlier Thursday, David Goldman told CNN's "American Morning" that he hoped his current trip to Brazil would be his last, but by the afternoon, he said he was unsure whether he would be allowed to see his son before returning to New Jersey to wait out the appeals process.
"I was ready to bring him home and now we have a setback," he said. "I hope the legal community and Brazilian officials will do the right thing."
CNN's Jill Dougherty and Adam Reiss contributed to this report.