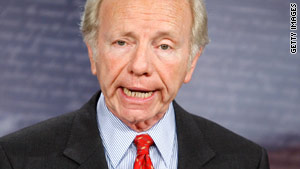 Sen. Joe Lieberman opposes a government-run public health insurance option and expanding Medicare.
STORY HIGHLIGHTS
Sen. Joe Lieberman's vote crucial for health care legislation
D.C. councilman has worked 12 years to pass same-sex marriage law
'The Hurt Locker' gaining momentum as awards season progresses
Editor's note: Every weekday, CNN focuses on a handful of people in the news. This is a chance to find out more about what they've done -- good or bad -- what they've said or what they believe, and why we think they're intriguing.
(CNN) -- Sen. Joe Lieberman
As an independent, the former Democrat from Connecticut caucuses with his former party's lawmakers, and often drives them crazy. He's playing a pivotal role in negotiations on health care legislation, as he may be the crucial 60th vote needed to pass it. Because of opposition from Lieberman, Senate Democrats are preparing to drop a compromise health care proposal that would allow 55- to 64-year-olds to buy into Medicare .
CNN: Dems revise health care bill to meet Lieberman's concerns
David A. Catania
The District of Columbia Council's first openly gay member has worked for a dozen years to get a same-sex marriage bill passed in the nation's capital. The Council is expected to give final approval of his bill today. Catania left the Republican Party five years ago because of its positions on same-sex marriage, and today he is an independent. If the bill passes, the district would join New Hampshire, Connecticut, Iowa, Vermont and Massachusetts in allowing same-sex marriage.
Washington Post: Poised to mark a milestone
Dennis deLeon
The former New York City human rights commissioner and longtime AIDS activist died recently at the age of 61. One of the first openly HIV-positive Latino leaders in the country, deLeon helped found the Latino Commission on AIDS and served as its president for 15 years.
CNN: AIDS activist deLeon dies at 61
Dr. Anthony Galea
The Canadian doctor, who has treated Olympic medalists, NFL players and a golfer named Tiger Woods, is under criminal investigation in the U.S., according to published reports today. Galea was arrested by Canadian police in October on charges of smuggling, advertising and selling unapproved drugs as well as criminal conspiracy, The Toronto Star reported. He is suspected of providing athletes with performance-enhancing drugs, according to several people who have been briefed on the investigation.
Toronto Star: Doctor tied to Tiger Woods probed by FBI
Kathryn Bigelow
The director of "The Hurt Locker" and her film about a team of bomb disposal experts in Iraq have won top film and director awards from the Los Angeles Film Critics Association, the New York Film Critics Circle, the Boston Society of Film Critics, the American Film Institute and others. Today, the Hollywood Foreign Press Association joined the chorus, nominating the movie for Golden Globe Awards for best drama, best director, and best screenplay. Bigelow is known for "Blue Steel," starring Jamie Lee Curtis; "Point Break," with Keanu Reeves and Patrick Swayze; and "K-19: The Widowmaker," with Harrison Ford.
L.A. Times: 'Hurt Locker' wins New York Film Critics Circle prizes
What makes a person intriguing?
There are people who enter the news cycle every day because their actions or decisions are new, important or different. Others are in the news because they are the ones those decisions affect. And there are a number of people who are so famous or controversial that anything they say or do becomes news.
Some of these people do what we expect of them: They run for office, pass legislation, start a business, get hired or fired, commit a crime, make an arrest, get in accidents, hit a home run, overthrow a government, fight wars, sue an opponent, put out fires, prepare for hurricanes and cavort with people other than their spouses. They do make news, but the action is usually more important than who is involved in the story.
But every day there are a number of people who become fascinating to us -- by virtue of their character, how they reached their decision, how they behaved under pressure, or because of the remarkable circumstances surrounding the event they are involved in.
They arouse our curiosity. We hear about them and want to know more. What they have done or said stimulates conversations across the country. At times, there is even a mystery about them. What they have done may be unique, heroic, cowardly or ghastly, but they capture our imaginations. We want to know what makes them tick, why they believe what they do and why they did what they did. They intrigue us.
FOLLOW THIS TOPIC