STORY HIGHLIGHTS
Denver strip of medical marijuana businesses nicknamed "Broadsterdam" by locals
State senator says it's easier to get a medical marijuana license than a liquor license
Boom in marijuana business likened to 49ers during the gold rush
Denver, Colorado (CNN) -- Driving down Broadway, it's easy to forget you are in the United States. Amid the antique stores, bars and fast-food joints occupying nearly every block are some of Denver's newest businesses: medical marijuana dispensaries.
The locals call this thoroughfare "Broadsterdam." As in Amsterdam, Netherlands, these businesses openly advertise their wares, often with signs depicting large green marijuana leaves.
"The American capitalist system is working," said attorney and medical marijuana advocate Rob Corry.
It's a matter of supply and demand.
"The demand has always been there," he said, "and the demand is growing daily because more doctors are willing to do this, and now businesses, entrepreneurs, mom-and-pop shops are cropping up to create a supply."
Colorado voters legalized medical marijuana in 2000. For years, patients could get small amounts from "caregivers," the term for growers and dispensers who could each supply only five patients. In 2007, a court lifted that limit and business boomed.
Between 2000 and 2008, the state issued about 2,000 medical marijuana cards to patients. That number has grown to more than 60,000 in the last year.
State Sen. Chris Romer, a Democrat whose south Denver district includes Broadsterdam, said the state receives more than 900 applications a day.
"It's growing so fast, it's like the old Wild West," Romer said. "This reminds me of 1899 in Cripple Creek, Colorado, when somebody struck gold. Every 49er in the country is making it for Denver to open a medical marijuana dispensary."
They're calling it the Green Rush.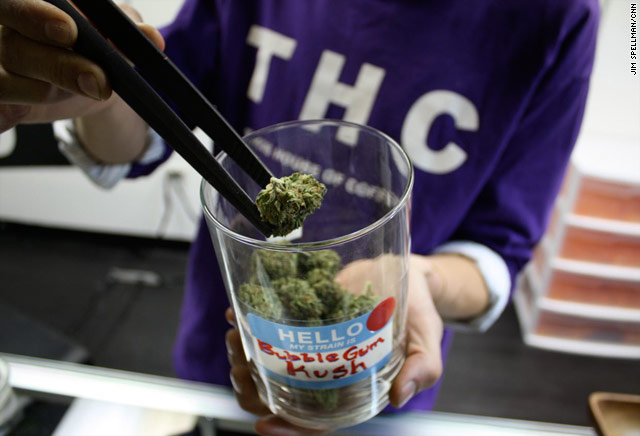 Interactive: Taking your medicine

Video: Marijuana family business
Corry, who has represented defendants in medical marijuana cases for years, is taking a different role: He has formed the Colorado Wellness Association, a trade group representing medical marijuana growers and providers.
"We want to be the Better Business Bureau of marijuana," he said.
On the 28th floor of a downtown building with a great view of the Rocky Mountains, Corry's office is adorned with vintage posters. One reads "Marihuana: Assassin of Youth!"
In the corner sits a plastic 6-foot marijuana plant. It's a prop from the TV show "Weeds," about a suburbanite mother who begins selling marijuana to make extra cash, Corry said.
The lagging economy has created an opening for medical marijuana, Corry said. As governments struggle for new sources of revenue, the prospect of taxing medical marijuana can be enticing.
The dispensaries are "paying taxes, hiring employees, renting out space, purchasing supplies and moving this economy along," he said. "Local governments need to get on the bandwagon and start realizing this is a major source of revenue and it can help us cure our bankrupt governments."
The association aims to get a larger supply of marijuana into the dispensaries and make sure it is safe, Corry said.
See the different ways to use marijuana
"What we're looking at is quality control," he said. "We have the technology to make sure there's no harmful toxins, pesticides."
Bob Winnicki is a 35-year-old analyst and co-owner of Full Spectrum Laboratories, which the wellness association uses for testing.
"We're trying to get away from smelling, texture, color" as a measure of quality cannabis, he said, adding that he prefers "hard analytical data."
Wearing a dress shirt and tie under a white lab coat, Winnicki opens envelopes with samples of marijuana dropped off by growers and dispensers. He puts the marijuana into test tubes and mixes it with a solution to create a greenish liquid. The test tube goes into a machine that performs a chemical analysis.
The active ingredient in marijuana is tetrahydrocannabinol, or THC. But Winnicki said it's other, less understood components that may provide much of the claimed medicinal benefits.
Winnicki is not a marijuana user, he said. In July, he took a break from medical school to start the lab because he loves "the science" behind medical marijuana and thinks the market is wide open, he said.
"There's a lot of money to be had in it, and there's a lot of jobs and growth that can come out of it," he said.
Across the city, entrepreneurs are trying to get in on the Green Rush. In a northwest Denver neighborhood, Aaron Randle is tending to his new shop, Sunnyside Alternative Medicine.
He opened in September and said he has about 100 customers so far.
Read about a mother and son who grow marijuana
"I've been an electrician for eight years and before that I had a cable contracting company. It's always been a dream to work for myself," he said. "I'm very passionate about marijuana."
I personally haven't tried it yet, but I'm not saying someday before I'm done I won't.
--State Sen. Chris Romer on medical marijuana
Customers drop by his modest storefront operation and take a seat in a small waiting room. It's no different than a dentist's office except the magazine rack is stuffed with High Times, a publication for marijuana buffs, instead of Sports Illustrated and parenting magazines.
One at a time, customers survey a display case full of marijuana strains as well as marijuana-infused brownies, taffy and lollipops. Maui Waui and Purple Kush are popular strains. It costs $50 for an eighth of an ounce, $54 with tax. Purchases go into a plastic prescription bottle and then into a white bag that reads, "Prescriptions. Thank You!"
Randle proudly displays his business license on the wall.
"There's a lot of jobs created because of medical marijuana," he said. "You have employees that work at the dispensaries, then you have vendors that are getting paid. ... Real estate is booming right now. Warehouses are getting rented out for grow operations."
What Randle calls "vendors" are marijuana growers, a mix of people who operate "grow houses," where the plants are cultivated using elaborate lighting systems, or small-scale farmers who operate in rural areas.
Zack Moore is a grower with a small greenhouse operation in southern Colorado. He also is a medical marijuana patient. A snowboarding accident knocked out his two front teeth, and he smokes marijuana for relief from various aches and pains, he said.
He rolls a joint and lights up before having a seat in a rocking chair in the afternoon sun. With a basket of marijuana in front of him, he uses toenail scissors to trim the dried plants. When he's done, he will have made about $6,000 for six months work, he said.
Though he hopes to do better next season, he's happy to be working.
"I build houses for a living. There's not many houses to be built right now."
Not everyone is happy with the changes the legalization of medical marijuana has brought to the state.
Colorado Attorney General John Suthers said the amendment to the state constitution that allowed the new businesses is flawed.
"Colorado has seen a rapid proliferation of medical marijuana dispensaries and patients since the Justice Department earlier this year announced it would not actively prosecute medical marijuana businesses -- despite the fact that marijuana remains an illegal drug under federal law," he said in an October statement.
"Amendment 20, written by marijuana-legalization proponents, is very vague. Our state lawmakers must give clarification to Amendment 20 and create a regulatory scheme for the growing medical marijuana industry."
State Sen. Romer concurs. "Right now it's easier to get a medical marijuana license than it is to get a liquor license," he said.
Currently, patients need to see a doctor only one time to get a recommendation that enables them to buy medical marijuana. Patients can choose to pay $90 to file with the state and receive a card identifying them as medical marijuana patients. The cards do not expire.
To become a provider or grower of medical marijuana, entrepreneurs need to have a patient name them as a caregiver when they file for a medical marijuana card.
Romer said he doesn't want to limit legitimately sick people's access to medical marijuana, but he doesn't want to see the state law turned into de facto legalization of marijuana.
"Amendment 20 never dealt with where you got the medical marijuana," he said. "We're going to license the growers and we're going to license the caregivers."
Romer wants to keep marijuana out of the hands of teenagers and hopes to channel some of the revenues into programs to treat substance abuse.
One of the most difficult aspects for lawmakers is how to define true medical need. Romer is keeping an open mind.
"I think you're having a lot of baby boomers who, all of us, are feeling a lot of aches and pains [and] are going to decide to try medical marijuana," he said. "I personally haven't tried it yet, but I'm not saying someday before I'm done I won't."