Pentagon held in contempt for failing to tape Guantanamo detainee's testimony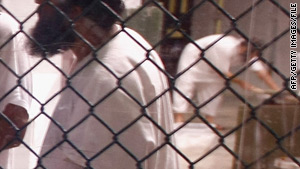 Guantanamo Bay naval base houses 210 detainees.
STORY HIGHLIGHTS
Testimony of a Yemeni citizen was not videotaped during a four-day hearing in June
In August, federal court granted review of Mohammad Al-Adahi's detention
Government had been ordered to tape testimony, then redact and maintain a copy
Judge wrote that government had "violated a clear and unambiguous court order"
Washington (CNN) -- A federal court has held the Defense Department in contempt after officials at the U.S. naval base in Guantanamo Bay, Cuba, failed to videotape the testimony of a Yemeni detainee as ordered.
Attorneys for Mohammed Al-Adahi, a Yemeni citizen held at Guantanamo, filed a motion seeking sanctions against the government after al-Adahi's testimony was not videotaped during a four-day hearing held in June.
Al-Adahi had petitioned the U.S. District Court for Washington challenging his detention in 2005 and asking for a court review of it, which was granted in August, the court said in the order issued Thursday.
The June hearing, held before the court agreed to review al-Adahi's detention, was closed to the public, since classified information needed to be presented, according to the order issued Thursday. The government was ordered to videotape al-Adahi's testimony at the merits hearing, then redact and maintain a copy of the testimony, to "afford the public and the press an opportunity to observe the greatest possible portion," U.S. District Judge Gladys Kessler wrote in the order.
However, the government notified the court on July 23 that the testimony had not been videotaped, blaming "oversight and miscommunication" for the "inadvertent" error, the order said. "There is no question that there is clear and convincing evidence that the government has violated a clear and unambiguous court order," Kessler wrote.
Kessler also ordered the Pentagon to post a transcript of al-Adahi's testimony on the federal courts' Web page for Guantanamo Bay cases, and required government officials to submit a "detailed explanation of all steps taken to ensure that such errors not occur in the future" within 30 days.
Kessler ordered al-Adahi released in August, but the government has appealed that ruling, and he remains one of 210 detainees at Guantanamo Bay.
The Justice Department had no comment on Kessler's ruling.
CNN's Terry Frieden contributed to this report.