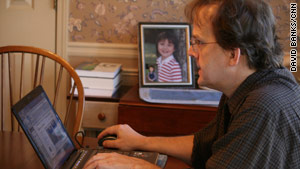 Michael White says he didn't anticipate casualities continuing at this pace, or the toll his Web site would take on him.
STORY HIGHLIGHTS
For six years, Michael White has produced the wars' death toll numbers

Every day White updates a Web site he launched in 2003, icasualties.org

News organizations cite icasualties in their reports

icasualties ranked 105th in mid-November among almost 1,100 political sites
Stone Mountain, Georgia (CNN) -- Fall leaves blanket Michael White's deck at his suburban Atlanta, Georgia, home. In the cluttered attic study, the software engineer slouches over his Hewlett-Packard laptop.
A full-length floor lamp stands on top of his desk -- the overhead light went out a while back. Next to him is his 1960s Stratocaster, a reminder of the rock-star career that never blossomed.
Jillian, his Vivaldi-loving, violin-playing 10-year-old, has gone off to school. Wife Ashley is at work. The house is quiet except for the occasional mew from Izzy, the atypically friendly Tonkinese cat.
And yet, from the humdrum of this ordinary subdivision home comes an arresting daily statement.
For six years, White has faithfully produced a number that is critical to shaping the legacy of the wars in Iraq and Afghanistan: the death toll.
Every day, White, 51, updates a Web site he launched in 2003, icasualties.org, to keep count of the dead: American troops, coalition troops, contractors and Iraqi civilians. He eventually began documenting deaths in Afghanistan as well.
Special coverage: War in Afghanistan
He knew the wars would carry on, but he did not anticipate casualties continuing at this pace. October proved to be the deadliest for U.S. troops in Afghanistan since the beginning of that conflict in 2001.
Nor could White have predicted the toll his task would take on him. As the numbers climbed, the dead came back to life on his screen. They weren't just statistics anymore.
Stepping into the breach
No one asked him to start the site. He wanted to do it. It was his way of making sure the world knew the exact toll of the war.
He could have written letters to the editor voicing his opposition to the invasion of Iraq. He could have marched on the streets. He chose instead to post a steady roster of names from towns such as Belleville, Illinois; Cortland, New York; and Gretna, Louisiana. Fathers. Mothers. Husbands. Wives. Sons. Daughters.
He began posting on icasualties at a time when he said media outlets were often sloppy about reported war deaths. They were late with the news or inaccurate.
"They were doing a lousy job," he said of the press in 2003.
White started getting out of bed before sunrise to scour Defense Department releases and small-town newspaper reports that often came out before official notices of deaths.
At lunchtime, he'd perform his searches again. When he visited his mother in South Carolina during Thanksgiving or Christmas, he'd sneak off to the closest Starbucks for a Wi-Fi connection. Later, when he acquired a wireless card for his laptop, he'd pull over on Georgia 400 on his drive home to check the 6 p.m. Pentagon update.
White grew the numbers into a searchable database that allows users to analyze where troops were killed, what branch of service they were in, their age, sex, race. He added the number of wounded and Iraqi and Afghan civilian casualties, not easy to track.
News organizations, including The Associated Press and The New York Times, took notice, citing icasualties in their reports.
The Reuters news agency routinely culls the icasualties site to help compile its tallies of fatalities. David Stamp, who works in its editorial reference unit, said the fact that the agency uses the site means that it views it as a reliable and authoritative source.
While White established himself as a standard bearer of grim news, he put up a wall between himself and what he typed. That was the only way he could carry on the task.
"I tried not to get personal about it. It was just a part of the documentation that I do."
But sometimes the wall crumbled.
Parents who thanked him for keeping track surfaced a few weeks later in an obituary on their son. And suddenly, a number turned into a human being.
White wanted to know how a soldier died. Was he on foot when the bomb went off? Or inside a Humvee? Was this the first tour of duty? What was his wife like? How many children did he leave fatherless?
During the "surge" in Iraq, when monthly death tolls soared above 100 for three months in a row, White began breaking down.
"It was too much, too intense," he said.
But slowly, the violence began to quell in Iraq. And with it, so did the interest in icasualties. White's site dropped from 1 million hits a day during the surge down to 50,000.
"People may be fatigued on this," said Matt Tatham, spokesman for the market research firm Experian Hitwise, which tracks usage of Web sites. "It may be the economy replaced the war."
White came close to pulling the plug.
Jillian had never known a father who was not a keeper of death. Ashley thought her husband's hobby had spiraled out of control.
But when Afghanistan heated up again, White realized his job was far from finished.
"Hopefully, that won't last," White said. "I wake up every morning now and hope there is nothing there."
Though hits are significantly lower than they were a year ago, Tatham said that icasualties ranked 105th in mid-November among almost 1,100 political sites. White's site was on par with those of the public policy think tank the Cato Institute, Senate Minority Leader Mitch McConnell, R-Kentucky, and Washington gossip blogger Wonkette.
And with President Obama about to announce a decision on sending more troops to Afghanistan, the relevance for icasualties has hardly evaporated.
"I think the site could get more visits," Tatham said. "It's a cyclical thing."
As long as he is able to raise the $500 a month he needs to maintain his server, White said he will keep icasualties going.
"I'll stop it when it has no meaning anymore," he said.
White was a wannabe rock star who always wanted to make headlines for his music, his creativity. Instead, he is known as the keeper of death, a man who packs a punch with a series of stark numbers.