Two Gitmo detainees transferred to Italy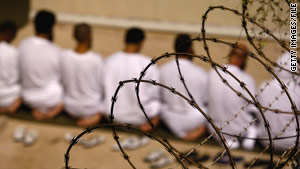 Detainees at the Guantanamo Bay detention center kneel during a prayer on October 28.
STORY HIGHLIGHTS
The transfers reduce the number of detainees at Guantanamo to 213
Officials indicate more departures may be imminent
Washington (CNN) -- Two Tunisian detainees whom the U.S. military had held at Guantanamo Bay have been turned over to the Italian government in Rome, the Justice Department announced.
U.S. authorities confirmed on Monday the arrival of Mohamed Tahir Riyadh Nasseri and Abel Ben Mabrouk bin Hamida Boughanmi in Italy, where they are expected to go on trial.
"Both detainees are the subject of outstanding arrest warrants in Italy and will be prosecuted there," said an unsigned announcement released by the Justice Department.
Authorities said the transfer was the result of extensive negotiations which led to an agreement between Attorney General Eric Holder and Italian Justice Minister Angelino Alfano in September.
The U.S. expressed its gratitude to Italy for "helping achieve" President Barack Obama's directive to close the Guantanamo Bay detention facility.
The president has acknowledged he will be unable to meet his goal of emptying and closing the U.S. Navy base at Guantanamo Bay, Cuba by his January 22 target date.
The transfers reduced the number of detainees remaining at Guantanamo to 213. Officials, however, indicated additional departures may be imminent.