Owner of NBA's Washington Wizards dies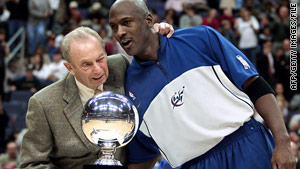 Abe Pollin congratulates Michael Jordan, then a Wizards player, on having scored 30,000 career points in 2002.
STORY HIGHLIGHTS
Abe Pollin was 85 years old
Pollin and his wife have owned the Wizards, formerly known as the Bullets, for 45 years
Pollin also once owned Washington Capitals hockey team
Survived by wife, two sons and two granddaughters, according to Web site
(CNN) -- Abe Pollin, the longtime owner of the Washington Wizards professional basketball franchise, has died, the Wizards said Tuesday. He was 85.
No further details were immediately available. The Wizards said information would be released as it became available.
The Pollin family asked that their privacy be respected, the basketball team said.
Pollin and his wife, Irene, have owned the NBA franchise, previously known as the Washington Bullets and before that the Baltimore Bullets, for 45 years.
As the majority owners of Washington Sports & Entertainment Limited Partnership, the Pollins oversaw the Washington Wizards, Washington/Baltimore Ticketmaster and in-house promoter Musicentre Productions, as well as the management of the Verizon Center and George Mason University's Patriot Center, according to the Verizon Center's Web site.
Pollin at one time also owned the Washington Capitals hockey team and the Washington Mystics WNBA team.
Pollin moved from Philadelphia, Pennsylvania, to the Washington area when he was 8, according to the Verizon Center's biography of him.
He attended George Washington University and worked for his family's construction company for more than a decade, it says. He and Irene, a St. Louis, Missouri, native, launched their own construction company in 1957 and built several large apartment houses and office buildings.
They have two sons and two granddaughters, according to the Web site.