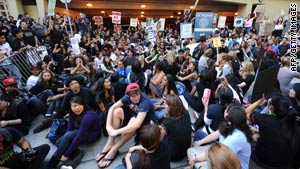 Students block a parking garage last week on the University of California-Los Angeles campus.
STORY HIGHLIGHTS
NEW: About 70 students leave occupied building "voluntarily," school spokesman says

NEW: Students head for a campus meeting place after university's ultimatum, he says

Students were protesting regent board's decision to approve 32 percent tuition hike

University officials say tuition hike needed to avoid further cuts due to state budget crisis

(CNN) -- About 70 students at UC Santa Cruz in California avoided arrest early Sunday morning when they surrendered the administration building they had occupied for three days, according to a school spokesman.
But, school officials said in a statement, "students who participated in this incident face possible criminal and/or student judicial sanctions."
Kerr Hall, the Santa Cruz campus' administration building, won't be ready for its normal duties Monday, the officials said, because some areas -- particularly the second floor, which school officials said might not be ready for several days -- were damaged and left in disarray.
Photographs provided by the school show trash scattered about, a moved refrigerator, broken tables and other items used to barricade doors, and telephone conferencing equipment ripped from tables in a conference room.
"It will take much of today to document and assess the damage," the Sunday statement said.
Angry students took over Kerr Hall after the University of California's regents board approved a 32 percent increase in tuition Thursday.
At about 6:30 a.m. Sunday (9:30 a.m. ET) campus police presented the protesters with an ultimatum: "Vacate the building or face arrest," school spokesman Barry Shiller said. The occupiers left Kerr Hall "voluntarily" and headed to Kresge Town Hall, a campus student meeting place where students have been "hanging out" for several days, he said.

Video: Students vent frustrations

Video: Protests over tuition increases

Video: Inside UCLA student protest
Police reported an injury to a bystander who fell as a crowd of onlookers dispersed at the request of police, school officials said. Earlier, Don Kingsbury, a graduate student helping with media communications for the protesters, told CNN the injured person was an assistant professor who fell over the railing as police herded protesters down a staircase.
At times, police tried to "forcibly move" protesters who were sitting on the ground outside the building, Kingsbury said. There were about 30 protesters sitting in front of the doors to Kerr Hall and about 50 others outside the building, he said.
But Shiller, who was not at the scene at the time, argued otherwise.
"I was watching a video monitor and the students were all filing out and there didn't appear to be any violence, there was absolutely no altercation," Shiller said. "I think the police were not part of the problem, they were part of the solution in ending this."
Police did not return calls from CNN Sunday.
For now, there are no plans to take over another building, said Kingsbury, 29, who is serving as a spokesman for the student protesters. "Everybody needs a shower after three days in a building," he said.
But the students will continue to push the administration to implement their earlier demands, including asking that the campus be a "safe space" for undocumented students who fear detainment from immigration officials, Kingsbury said. Protesters also demanded no more school employees be laid off.
The occupation at UC Santa Cruz was one of several demonstrations across University of California campuses in the wake of the tuition increase.
University officials said the $505 million to be raised by the tuition increase is needed to prevent even deeper cuts than those already made due to California's persistent financial crisis.
Protesting students said the hike will hurt working and middle-class students.
The first phase of the increase, which takes effect in January, will raise undergraduate tuition to $8,373. The second phase kicks in next fall, raising tuition to $10,302, said university spokeswoman Leslie Sepuka.
Students who live on campus could pay up to an estimated $17,200 in additional fees, which include the annual cost of books and housing, according to the system's July 2008 finance guide.
The January increase of about 15 percent is more than double the average public university tuition hike last year. On average, tuition and fees at four-year public universities nationwide increased 6.5 percent, or to $7,020, since the previous school year, according to the College Board.
Students eligible for financial aid and whose families make less than $70,000 will have their tuition covered, the university said.
CNN's Irving Last, Alan Duke and Khadijah Rentas contributed to this report.