Swim club accused of bias files for bankruptcy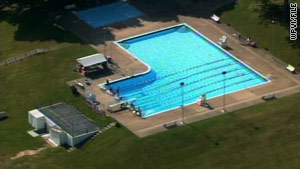 The Philadelphia-area Valley Swim Club denies discrimination played a role in revoking some children's swimming priviliges.
STORY HIGHLIGHTS
NEW: Bankruptcy attorney on club: "The last 10 years they've struggled"
Club canceled contract for swimming privileges for about 65 kids in June
Black and Hispanic children said club members made racist comments
Bankruptcy filing could affect settlements over issue in Philadelphia area
(CNN) -- The Pennsylvania swim club accused of discriminating against minority children over the summer has filed for bankruptcy, according to the U.S. Bankruptcy Court for the Eastern District of Pennsylvania.
The club filed for Chapter 7 bankruptcy Tuesday, an assistant to the court's clerk said.
"The last 10 years they've struggled; they're not making a profit," said Michael Cibik, a bankruptcy attorney representing Valley Swim Club. "They were just making ends meet."
The filing could affect potential settlements stemming from the June incident in which the Philadelphia-area club canceled a contract for swimming privileges for about 65 children -- most of them minorities -- from the Creative Steps day care after the youths' first visit.
Some black and Hispanic children said white club members made racist comments to them during that visit, asking why black children were there and raising concerns that "they might steal from us."
Asked whether the discrimination allegations and media attention contributed to the club having to file for bankruptcy, Cibik said, "Maybe partially. When the president [John Duesler] came to me two months ago, he was looking at the possibility. A lot of members were saying maybe it's time to pull the plug on this."
The club was lambasted after Duesler said the children's swimming privileges were revoked because the youngsters had changed the "atmosphere" and "complexion" of the club. But Duesler later said he had made a poor choice of words and flatly denied that discrimination played any part in the cancellation of the contract.
He later apologized, telling CNN's Susan Candiotti the club had "severely underestimated the number of children and our capacity to handle these groups. It was a safety issue, and that was the only reason that we felt it was not safe for them to be here."
The club also canceled contracts with two other day care centers due to safety and crowding issues, he said. Those facilities did not protest the club's actions.
Creative Steps day care and scores of parents filed complaints with the Philadelphia Human Relations Commission.
The complaints are still pending, according to commission spokeswoman Shannon Powers.
"If all efforts fail to settle, we will move to a public hearing," Powers said. If, in the end, there are financial settlements, Valley Swim Club would have 30 days to comply.
Duesler refused to comment on the bankruptcy filing.