JFK's last autograph nets big bucks at auction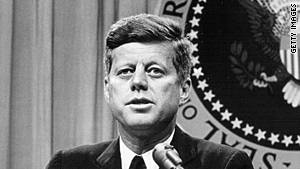 A California businessman shelled out $39,000 for what may have been President John F. Kennedy's last autograph.
STORY HIGHLIGHTS
Newspaper signed by John F. Kennedy shortly before his assassination sells for $39,000

California businessman says he plans to put it on display with other Kennedy memorabilia

Jack Ruby's gray fedora sold for nearly $54,000 at same auction

(CNN) -- What could be the last autograph signed by President Kennedy was sold recently at an auction of items linked to his assassination in Texas.
Kennedy reportedly signed the front page of the Dallas Morning News, which contained a photo of him and the first lady and a preview of their arrival that day in Dallas.
A Dallas woman handed the president the newspaper and he signed it for her, according to Heritage Auctions, the company that sold the item. The date of his assassination, which came about two hours later, was on the front page of that paper near his signature.
"It's chillingly historic because it documents the day, documents the location and it's certainly one of the last signatures of John Kennedy," Doug Norwine, a director at Heritage Auctions told CNN affiliate KDAF.
The newspaper was purchased by Joe Maddalena, president and owner of Profiles in History in Calabassas, California for $39,000.
He received his purchase Thursday and "immediately insured it for a quarter million dollars."
Maddalena told CNN he was prepared to pay six figures for it, but he would not say just how high he would have bid. He said he got an "impressive piece of history at a bargain price."
Maddalena said he will "hold on to it for a while and put it on display with other JFK items at the appropriate times" such as the celebration of Kennedy's birth date.
The gray fedora worn by Jack Ruby when he shot Lee Harvey Oswald sold for $53,775 at the same auction.