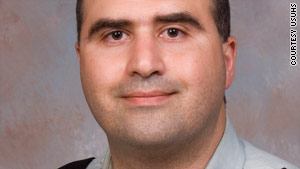 Nidal Hasan, an Army psychiatrist accused of the Fort Hood shootings, was promoted to the rank of major in May.
STORY HIGHLIGHTS
Fort Hood shooting suspect Maj. Nidal Hasan was recently promoted, according to military

Questions are arising about Hasan's qualifications as a doctor

Hasan's supervisor said Hasan had been doing a good job while in Texas

Washington (CNN) -- The military psychiatrist accused of killing 13 people at Fort Hood was part of a medical psychiatrist corps stretched to its limits, raising questions about whether the Army kept him on to meet personnel goals.
Maj. Nidal Malik Hasan was promoted from the rank of captain to major in May, military records show. Because of a shortage of majors in the medical corps, the promotion board was given the authority to promote captains who otherwise would not have been considered for a promotion to major, according to a U.S. military official who asked not to be identified in connection with discussing personnel matters possibly related to the Hasan investigation.
Army officials were not at liberty to discuss Hasan's promotion rating or to say if the service was keeping him to fill needed staffing quotas.
Currently, the rank of major in the Army is in the 85 percent fulfilled mark or, put another way, there are 1,191 people currently in the rank for which there are 1,402 total positions.
Hasan was promoted after six years as serving at the rank of captain, the standard time spent in that rank in the medical corps, according to Army officials.
The Army is also short in the number of psychiatrists it needs, according to Army statistics. The service has about 85 percent of the number needed to fill the ranks, 123 of the 143 required, according to Army documents.

Video: Fort Hood suspect charged

Video: Is Nidal Hasan a terrorist?

Video: Hasan's contacts probed
Army officials say the psychiatrist corps is bolstered by an additional 121 civilians and 93 contract psychiatrists working in Army health care facilities.
As the investigation into Hasan's background continues, questions are arising about his qualifications as a doctor, including his final project as a resident where classmates say he gave an unusual briefing about Islam rather than discussing a more medically-oriented topic.
Hasan finished his residency and was transferred to the sprawling base of Fort Hood where thousands of soldiers prepare to deploy to war zones and thousands more return home from those same conflict areas. The Army places numerous psychiatrists there to treat returning troops for post traumatic stress disorders and other mental health issues related to returning from from the war zones.
Army officials would not comment on questions by CNN about Hasan's medical practice qualifications because of the ongoing criminal investigation. But Col. Kimberly Kesling, deputy commander of Clinical Services for Darnell Medical Center at Fort Hood and Hasan's supervisor at the post, told reporters last week that Hasan was doing a good job in Texas.
"In our facility, he was doing a very good job. He was a dedicated, hard-working provider," she said. "He cared for his patients, and he cared for them well, and he was a valued member of our team."
Kesling said Hasan's evaluation reports indicated he had had some trouble "fitting in" during his residency at Walter Reed Army Medical Center, but that nothing on the reports threw up any "red flags."
"We worked very hard to integrate him into our practice and into our organization, and he adapted very well, was doing a really good job for us," she said.
Regarding his promotion to major, which came in May before his July transfer to Fort Hood, Kesling said that Army medical officers up for promotion "must go before a board, that board is not just made up of medical officers."
"And so his record went before the board just like anyone else's, and he received his promotion appropriately based on his performance evaluations," she said.