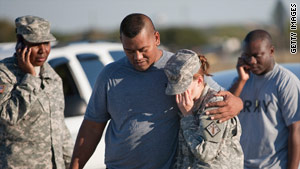 Sgt. Fanuaee Vea, left, embraces Pvt. Savannah Green outside Fort Hood in Texas on Thursday.
STORY HIGHLIGHTS
Shootings interrupted family day for mom, dad, toddler from Colorado
Army moms in North Texas got texts and calls from sons saying they were safe
Staff Sgt. Cecil Williams holed up in a building and watched the scene unfold
Slain soldier wanted to further his education, his mother says
A CNN Special Investigation drills down on the causes and the impact of the Fort Hood shootings, at 8 p.m. ET Saturday on CNN TV.
(CNN) -- Families and friends around Fort Hood, Texas, and around the country waited for word of their loved ones' safety Thursday as news spread that a gunman had opened fire on the military post.
The alleged shooter, Maj. Nidal Malik Hasan, a psychiatrist who worked in a hospital at the post, is blamed for the deaths of 12 soldiers and one civilian, military officials said.
Another 30 people were wounded; 28 of them required hospitalization. About half required surgery, and all were in stable condition Friday morning, said Col. Steven Braverman, hospital commander at Fort Hood.
CNN affiliates shared what they've learned from their viewers affected by the shootings.
"He felt he was in a rut. He wanted to travel, see the world."
WGN: Pfc. Michael Pearson, 21, of Bolingbrook, Illinois, joined the Army slightly more than a year ago and was training to deactivate bombs, said his mother, Sheryll Pearson. "He was working for a furniture company and felt like he wasn't going anywhere." She said he also wanted to further his education after graduating from Bolingbrook High School. He was killed in Thursday's shootings.
KTXA: Army moms in North Texas got texts and calls from their sons saying they were safe, but they still grieve for the loss of lives, and for the shooter. "You have to lose your mind to do something like that to your brothers in arms, people that protected you and had your back," said Julie Miller, whose son, Aaron, is stationed at Fort Hood.
"She said she did what a soldier is supposed to do."

Video: 'Shocked and bewildered'

Video: Daughter shot in the back

Video: A look at sprawling Fort Hood

Video: Footage from shooting aftermath
WITI: After hours of frenzied phone calls, Lisa Pfund of Random Lake, Wisconsin, said she finally got to talk to her daughter, Amber Bahr, 19, who was shot in the stomach at Fort Hood. Pfund says her daughter joined the Army Reserve when she was 17 and she last saw her in May. Bahr is in the hospital in stable condition, her mother said.
"I never thought it would be an actual war right here on post."
WAVY: Military members in the Hampton Roads area of Virginia, many of whom are based out of Fort Hood, waited anxiously to learn whether their loved ones were safe. Venus Marshall's nephew John Allen, 19, is in Texas preparing for his first deployment. "It could have been me," Allen said. "I was scheduled to go SRP, but there was a change of plans."
"Honey, someone's shooting in the building I'm in. I love you."
WXIX: Melissa Berry of Mason, Ohio, listened as her husband, Josh, held the phone but said nothing. "[There was] a woman over the intercom saying, 'We are being fired on, we need assistance,' " she said. "I think he truly thought he was going to die." Josh Berry dislocated his shoulder while running and ducking for cover. He was not shot.
"I'm just praying to God he's just one of the injured."
WPXI: Kimberly Yonkovich of Pittsburgh, Pennsylvania, was worried when she couldn't reach her nephew, Pvt. Raymond Briscoe, 25, on either of his cell phones. She later learned that authorities at Fort Hood were questioning him and others about the shootings. Yonkovich lost another nephew about five years ago in Iraq. He was killed when a land mine exploded.
"That's our brother, our sister. It hurts really bad."
WTAE: Staff Sgt. Cecil Williams, a native of Garfield, Pennsylvania, said he and his company holed up in the building where they work and peered out windows to watch the scene unfold. "You see the sirens, you see the helicopters, dozens of ambulances racing up and down the road," he said. "It hits home. When we lose a soldier, it hurts."
"I can't really call right now. Thanks for being concerned."
WAPT: Richard Baker from Jackson, Mississippi, was at Fort Hood when the shooting began. He couldn't call his family and friends to tell them he was OK, but like many others on post, he messaged his friends on Facebook. "I'm OK. However, we are on lockdown," he said.
"You're looking through every room just to make sure it's just you in the house."
WYFF: A Fort Hood military wife with ties to Gray Court, South Carolina, said she was near the post when the shooting started. Her husband was still inside during the lockdown. Michelle, who said she can't reveal her full name because of military policy, said she locked herself and her two children in their house. She said officials at the post told people to shut off their heating and cooling systems so no one could crawl through the vents.
"I heard somebody shooting and I got down."
WRTV: Cpl. Nathan A. Hewitt, 27, of Lafayette, Indiana, was at the Fort Hood medical center when the door swung open and people began yelling. He was shot twice. One bullet grazed his hip, and the other hit him in the calf. Still, Hewitt said he was worried about the other soldiers around him. "There were people hurt worse than I was, so I was trying to help them out before I helped myself," he said.
"She said 'Yeah, I've been shot."
KCTV: Reservist Keara Bono, 21, arrived at Fort Hood on Thursday, her family said. She was filling out paperwork for her deployment to Iraq when she was shot in the shoulder. "It's just a really scary deal, so I've just been nerves on end trying to figure out exactly what's going on here," said her father, Steve Bono.
"In my mind, he's telling me he's OK, but I'm not OK."
KETV: Nebraska National Guard Capt. Hector Leguillow called his wife, Rhonda, and told her to be calm. "He goes, 'I'm OK,' " Rhonda Leguillow said. "I say, 'What happened?' And he says, 'There's been some sort of attack.' " She said her husband had to hang up before he could give her any more details, so she went straight to the television. She also called her daughters, Tinissia and Leighann, who had just said goodbye to their father two weeks ago at his unit's sendoff ceremony in Lincoln. His unit is bound for Iraq.
"Hurry home, get our son from the babysitter and just stay safe."
KMGH: Whitney Pacheco of Thornton, Colorado, was looking forward to Family Day with her toddler and her husband, Army Sgt. Curtis Jones. Instead, Pacheco wound up hunkered down with two other women and their five young children. For security reasons, phone lines and cell phone signals were shut down. The women passed time watching CNN and twittering on a computer to let family members know they were OK.
KITV: Staff Sgt. Alex Pruner from Hawaii said he had just left post when he got a text message about the shootings. "We always train for terrorist attacks on your home base and all that, but we never thought that it would actually happen." Pruner said he is sad about the families of the soldiers killed and wounded, but also for those who will have to be deployed to Iraq as replacements.