Pentagon: Defense personnel to get H1N1 vaccine before Gitmo detainees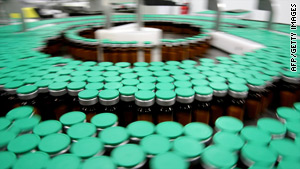 Amid shortages in the U.S., the announced plan to vaccinate Guantanamo Bay detainees against swine flu angered many.
STORY HIGHLIGHTS
NEW: Active personnel and civilian employees get priority for H1N1 vaccine, Pentagon says
NEW: Guantanamo Bay detainees will have option to get vaccinated, Pentagon clarifies
White House spokesman had said "there's no vaccine on the way to Guantanamo"
Criticism of announced plan has abounded amid shortages of vaccine for U.S. citizens
Washington (CNN) -- The Pentagon stressed Tuesday that detainees at Guantanamo Bay, Cuba, won't be receiving H1N1 flu vaccinations until well after all Department of Defense active duty and civilian employees have received their vaccinations.
The clarification comes after significant criticism from members of Congress that prisoners at the Guantanamo Bay facility were being given the swine flu vaccine ahead of American citizens.
Asked about the criticism, White House Press Secretary Robert Gibbs told reporters at a briefing Tuesday that no vaccines were being sent to Guantanamo at the moment.
"There is no vaccine in Guantanamo and there's no vaccine on the way to Guantanamo," he said.
What Gibbs left unsaid was that, ultimately, the detainees will be given the option to be vaccinated.
Pentagon officials said doses of the vaccine are on order for Guantanamo and are expected to arrive at the base in late November.
As shipments come in to the military, they will be distributed according to a Pentagon priority list that requires troops already deployed to combat areas or about to deploy receive it first, Pentagon officials said.
Each U.S. military installation will go by the same distribution priority, the officials said.
"The department has an obligation to care for people in its custody. The DoD takes that very seriously," said Bryan Whitman, Pentagon spokesman. "There is a limited supply of the H1N1 vaccine and DoD has prioritized how it will be delivered. ... The detainee population is toward the bottom of the list."
At the top of the list, Whitman said, are deployed U.S. troops and all other uniformed active-duty troops. Next come civilian and contracted health care workers, then Defense Department civilians, including the families of military personnel, but only after 90 percent of active duty troops are vaccinated.
Next in line would be detainees, but only after all active duty troops are vaccinated, followed by non-U.S. contractors such as those working for the U.S. military in Iraq and Afghanistan.
The vaccinations will be voluntary for the detainees, who will be briefed on the virus and the vaccine beforehand, according to Pentagon officials.
Some of the detainees already have taken the seasonal flu shot voluntarily, officials said.
The controversy erupted last week when a spokeswoman for Joint Task Force Guantanamo, which is responsible for the detainees, said the detainees are considered at high risk for H1N1, from which some inferred that inoculating them would be a high priority.