STORY HIGHLIGHTS
Federation of Black Cowboys teaches kids horsemanship, "forgotten black West"
Rabbit: "I think I'd be probably in jail or with a gang somewhere" if not for black cowboys
White fence separates stables from commuter traffic, housing projects of Brooklyn, Queens
Economy weighs on federation as funds for cowboy museum, stable upkeep are sparse
NEW YORK (CNN) -- Boney D and Rabbit come from rough parts of Brooklyn, places that could be unfavorably compared to the Wild West.
You wouldn't expect that they'd escape their environments at a rugged 25-acre ranch in nearby Queens, riding horses and hanging out with cowboys.
"I've seen a guy get shot dead, point [blank] range, right in front of me -- dropped him, boom," D'vonte "Boney D" Jemmott, 15, said of the neighborhood where he grew up. "I've seen dudes get beat up, chased home, all sorts of things. I've seen all sorts of different drugs being ran around.
"If I wasn't down here," he said, "I'd probably be involved with things like that -- robbing people, probably hurting people -- because I've seen a lot of that stuff done around my way."
Jemmott's mother has been taking him to Cedar Lane Stables since he was a toddler. The Federation of Black Cowboys, founded in 1994, has called Cedar Lane home since 1998.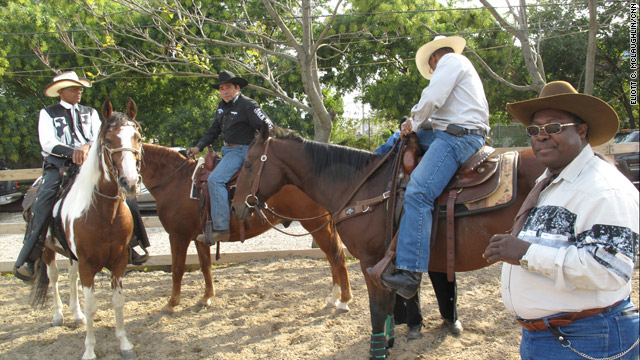 Gallery: Texas in Queens
A white post-and-rail fence separates the property and its three dozen horses from the 18-wheelers, dump trucks and commuter traffic at the intersection of Linden Boulevard and Conduit Avenue.
A red, wooden sign at the stable's entrance advertises "reins & things" at Debbie's Western Boutique. Mallards and chubby white geese populate a murky creek on the north side of the property, and a wide wooden bridge takes you to the riding ring and stables, many of which have been converted from metal shipping containers.
"[The kids] love it, Texas in Queens. This is like an oasis in the middle of the city," said cowgirl Heather Bradley, whom the children call "Ma."
Paris "Rabbit" Parrish, 20, has ridden with the black cowboys since he was 8 years old. He remembers when he and his mother were driving on Linden Boulevard and first saw Jessie Lee "Captain" Wise, one of the federation's 11 founders, riding his horse.
They can come here at night without worrying about getting shot.
--Stencil "Doctor D" Stokes, federation president
"I was like, 'Mama, mama, look, it's a cowboy!' And I've always wanted to be a cowboy. I watched Westerns. So we pull over, and we talked to him, and he told me to come on down to the stable," Parrish said as he rode a thick black mare, Beauty, across the backside of the property. "Ever since I was at the stable, it's been like I was at home, paradise."
Like Jemmott, Parrish said his neighborhood is rife with gangs and narcotics -- he's witnessed drug transactions in front of the school near his house -- and he's confident he wouldn't be entering college soon without the guidance of the local cowpokes.
"I think I'd be probably in jail or with a gang somewhere because it was hard for me to stay out of trouble," he said.
Keeping youngsters away from gangs, guns and drugs is a top federation priority, said President Stencil "Doctor D" Stokes, a foreboding man who can crack a bullwhip with such prowess, it sounds like a shot from a small-caliber pistol.
Stokes would never use the whip on anyone, he assured, but it helps get the kids' attention.
"They see the Bloods. They see the Crips. All they see is violence," the school bus driver said, bullwhip in hand and Stetson tilted back. "They can come here at night without worrying about getting shot."
William "Bill" Pickett (1870-1932) -- Credited with inventing steer wrestling, a popular rodeo event. Legend has it that Pickett, inspired by the bulldogs used to herd the steer, rode alongside a bull, leapt off his horse, grabbed it by the horns and bit the animal on the side of the mouth, bringing it to the ground.

"Stagecoach" Mary Fields (1832-1914) -- Her skill at hitching a team of horses to a stagecoach earned her the honor of being the first African-American woman to deliver the U.S. mail. A poem attributed to her says she was 6-feet tall, weighed 200 pounds, smoked a "big, black cigar" and carried a pistol.

Bass Reeves (1838-1910) -- First African-American deputy U.S. marshal west of the Mississippi River. He patrolled the lawless Indian Territory and was hired because of his knowledge of tribal languages and his acumen for disguise. He is credited with arresting more than 3,000 outlaws.

Nat Love (1854-1921) -- Also called "Deadwood Dick," Love was born a slave in Tennessee. He made his mark as a cowboy in Dodge City, Kansas, and in his autobiography talks of fighting native Americans, roping mustangs and sharing drinks with Billy the Kid.
Though the federation has mentored a child who went on to become a veterinarian and another who is a New York mounted police officer, Stokes said he doesn't have unrealistic expectations of the children, because the primary goal is to keep them safe.
"Everybody cannot be an A student. We understand that, but if you're a C student, be a damned good C student," he said.
Education is a staple at the stables, according to Warren "Black Red" Small, who said that taking care of a horse is a lot like taking care of yourself.
Youngsters aren't allowed to ride until they first learn how to groom the animals, clean their hooves, saddle and bridle them and, yes, muck their stalls.
A retired peace officer for the state court system, Small said the federation also teaches children about "the forgotten black West" because it's important that kids know the role African-Americans played in taming the Wild West.
Buckaroos such as Gene Autry, Roy Rogers and Hopalong Cassidy too often dominate popular cowboy lore, Stokes added, explaining, "I'm not a racist man, but they wasn't the first."
The federation teaches youngsters about Bill Pickett, who invented steer wrestling, and the pugnacious "Stagecoach" Mary Fields, whose nickname was derived from her reliability in delivering mail across an ornery Montana frontier.
The stories help kids ascertain their own identities, Small said.
"History, for all people, is a necessary part of their evolution and their growing process," he said.
Also necessary, said the group's first female inductee, Kesha "Babygirl" Morse, is "working with kids to find a balance for them between the macho man stuff and being a gentleman."
Thousands of kids have come through the stables via various school programs and community functions since 1998, Small said. About 25 to 30 of those, such as Jemmott and Parrish, have moseyed back for mentoring.
Like any nonprofit, the federation survives off donations. Major corporations have donated to the cause, and co-founder Jessie Lee Wise has tapped his own excavating business to help with upkeep and construction at the stables.
But times are hard, said Eric "Little Red" Jackson, and the cowboys could sorely use a sponsor to continue their work. Several stables are in disrepair, and the federation's future museum is presently a dilapidated trailer containing photos, animal hides and a hodgepodge of memorabilia and artifacts.
Jemmott said he knows plenty of kids his age who also could use some work, peers wrapped up in drugs and violence who "have nothing going for them now."
"I'm glad I didn't get involved in any of that activity," he said. "Couple more years, if they're not incarcerated, they're going to be in the dirt. I want to prosper in life. I just don't want to be a statistic or a product of my environment."