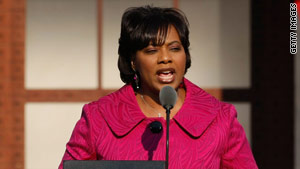 Bernice King is one finalist to be SCLC president. The other is former Arkansas Court of Appeals Judge Wendell Griffen.
STORY HIGHLIGHTS
Bernice King, Wendell Griffen are finalists to lead the SCLC
Southern Christian Leadership Conference founded in 1957
Results of SCLC voting expected Friday morning
Atlanta, Georgia (CNN) -- The legacy of the past is an unavoidable presence as the Southern Christian Leadership Conference considers who will be its next president.
One candidate is a daughter of the premier civil rights icon, the Rev. Martin Luther King Jr., while the other says he wants to pay back the debt he owes civil rights champions of the past.
Some observers, however, say the SCLC's focus must be on the organization's future.
Among those observers is Ralph Luker, who said he was drawn to the civil rights movement as an undergraduate at Duke University and took part in the pivotal Montgomery-to-Selma march in Alabama, led by King in 1965 in an effort to get voting rights for African-Americans.
As a former history professor at Morehouse College, Luker has studied the movement throughout his life. He co-edited the first two volumes of "The Papers of Martin Luther King."
While the SCLC board pondered Thursday, Luker, now retired, said the next SCLC leader's main challenge will be to give the civil rights organization a sense of mission.
"I think it's been an organization in search of a purpose for decades," he said. That purpose, he said, now must reflect a "very different age and time."
"There's been ... no real vision, and that's a dramatic change from its early years," he said, adding, "For too long it's been a program here, had a cause there, but the group's rationale for being hasn't been clear."
The results of the vote were not expected to be announced until Friday morning, said SCLC spokeswoman Renee Richardson.
One of the two finalists for the presidency is Bernice King, 46, the youngest daughter of the slain civil rights leader who co-founded the SCLC in 1957.
King, a fundamentalist preacher who is anti-gay, is the pastor of New Birth Missionary Baptist Church in Lithonia, Georgia. She also is a motivational speaker and author. King, who has a law degree, would be the first woman to head the organization.
"It is a destiny call," she told the Atlanta Journal-Constitution last week. "It is part of my father and mother's legacy and a continuation of the legacy he started in the '50s and '60s through this organization. I believe that the hand of God is leading me."
Her brother, Martin Luther King III, was president of the SCLC from 1997 to 2004. They and sibling Dexter King were locked in bitter legal battles among themselves over their parents' estates until late September, when a judge ordered them to reach an agreement out of court.
The other finalist is former Arkansas Court of Appeals Judge Wendell Griffen, 57, who lost his recent bid for re-election. Griffen, of Pine Bluff, Arkansas, also is an ordained minister. He is pastor of New Millennium Church in Little Rock.
Griffen was the first African-American attorney to work for a major Arkansas law firm. He told the Journal-Constitution, "I have been blessed throughout my life, because of the work the people have done in the civil rights community.
"This is my opportunity to pay them back by contributing my experiences and legal training to some of the most important work that has ever been done."
The new leader will succeed the Rev. Byron Clay, who has been interim president since the Rev. Charles Steele Jr. resigned earlier this year. The Rev. Joseph E. Lowery led the group from its inception in 1957 until 1997.
According to the SCLC, the modern civil rights movement began on December 5, 1955, when the Montgomery bus boycott was initiated after Rosa Parks was arrested for refusing to give up her bus seat to a white man. The boycott ended the next year with the desegregation of the Montgomery bus system.
Several goals are listed on the SCLC's Web site: economic development, education, community empowerment and bridging the "technical divide." The group, which has chapters and affiliates throughout the country, has lobbied extensively on a variety of issues related to civil rights.
What is needed to bind those goals together is a strong central mission, said Clayborne Carson, who was named Martin Luther King Jr. distinguished professor at Morehouse College in January, and heads that institution's King Papers Project.
But, he added, people "could ask this of any organization that was set up to be part of the civil rights struggle."
"Is their function simply to hold the gains that were made," or take a leading role in new struggles? he asked.
"We have eliminated systems of racial oppression, and that was an important accomplishment, but do we spend our time celebrating the accomplishments of the past, or do we move on to a new era of human rights?
"I think that's a tough challenge," he said. "... I think it [SCLC] must redefine itself or risk irrelevance."
He noted that the Rev. Martin Luther King Jr. was a rare visionary.
King struggled to persuade the organization to embrace 1960s issues like the War on Poverty and the Vietnam War, Carson said. The current group is dominated by ministers, but he noted that the church is no longer a central institution, even among African-Americans.