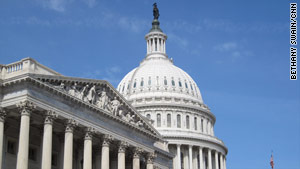 Lobbyists are hitting the Capitol to schmooze lawmakers.
STORY HIGHLIGHTS
Heath care plans cleared by five committees in Congress
Health insurance industry launches attack ad aimed at seniors
More than 3,000 people are registered to lobby about health care
Majority Leader Harry Reid wants to repeal law that gives protections to industry
(CNN) -- The amount of money lobbyists are spending on health care reform could break records, and now that the five bills before Congress have cleared committee, that spending is expected to go into overdrive.
"It is sort of a Super Bowl of lobbying for health care reform. The lobbyists are winning so far. But the game's not over yet," said Rep. Jim Cooper, D-Tennessee.
As lawmakers work to come up with a plan that can make it to President Obama's desk, industries and interests close to the issue are digging deeper into their pockets to sway public opinion and those in office.
The insurance industry launched its first air attack with an ad aimed at seniors.
"Most people agree we need to reform health care, but is it right to ask 10 million seniors on Medicare Advantage for more than their fair share? Congress is proposing more than $100 billion in cuts to Medicare Advantage," the ad says, referring to the private insurance plan Medicare offers to some recipients.
The industry's trade group America's Health Insurance Plans put out the ad.
In addition to the battle with the insurance industry, liberal reform supporters and armies of special interest groups are entering the fray.
And there's also a ground offensive: Lobbyists hitting the Capitol to schmooze lawmakers. Members of Congress feel they're getting slimed.
"I rise just days before Halloween to unmask the insurance industry," said Rep. Donna Edwards, D-Maryland. "Now, we see the industry and their lobbyists for what they are, a little shop of horrors."
The health care sector has spent $263 million this year lobbying Congress for changes to reform plans, a government watchdog group estimates.
"This is one of the biggest lobbying pushes that we've seen on a single issue in U.S. history," said Dave Levinthal, communications director for the nonpartisan Center for Responsive Politics.
There are more than 3,000 people registered to lobby about health care, almost six lobbyists for every member of Congress.
Many of the lobbyists are former members of Congress and staffers from both sides of the aisle.
"It's like a sports team. If you want to put together a good team, then you're going to have to hire some pretty big-dollar players," Levinthal said.
Cooper, who opposed President Clinton's health care plan in the 1990s, says President Obama put himself in a tough position when he invited the health care sector to help craft reform.
"There are a number of groups that are threatening to revolt on the White House deals and Congressional deals," Cooper said.
Earlier this week, AHIP released a controversial study it commissioned claiming the Senate Finance Committee bill would result in premium increases of up to $4,000 for a family. However, the study conducted by the consulting firm PricewaterhouseCoopers did not take into account some of the proposed subsidies that would be offered to low-income families to help them pay for insurance, and the firm has said such provisions would offset some of the impact it estimated.
Republican leaders in Congress are quoting the study, predicting higher premiums for consumers. But Congressional Democrats and the White House say the analysis is flawed.
Finance Committee spokesman Scott Mulhauser called the analysis "a health insurance company hatchet job -- plain and simple."
Some top Democrats including Senate Majority Leader Harry Reid are swinging back at the insurance industry. Reid testified before the Senate Judiciary Committee, asking them to repeal an antitrust law that has given certain protections to the insurance industry and lets them reap in huge profits.
Reid's office says the law allows insurance companies to huddle in a room and come up with rates. They say that other than Major League Baseball, no other industry has this exemption.
If lawmakers were to repeal this law, the McCarran-Ferguson Act, it could cut into the health insurance industry's profits.
Reid's office says the timing of the attempts to appeal the law -- shortly after the health care industry's report -- is just a coincidence.
The industry, however, says the McCarran Ferguson law has nothing to do with competition in the market.
"The focus on this issue is a political ploy designed to distract attention away from the real issue of rising health care costs," the industry said in a statement.
CNN's Kevin Bohn and Jessica Yellin contributed to this report.