WASHINGTON (CNN) -- Youth exchange programs receiving U.S. State Department grants are suffering from insufficient oversight and attention from the federal government, according to an inspector general's report released Thursday.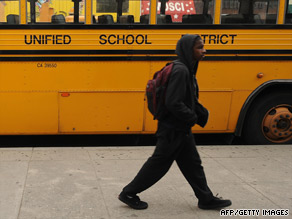 An inspector general's report calls for more oversight of student exchange programs.
The report calls for stronger monitoring of youth placement groups that receive federal grants to sponsor exchange students. It finds that the department has been "relying instead on the coordinator to self-monitor." Participants in the exchange programs are typically 15 to 18 and are among "the most vulnerable," according to the report.
In 2008, the State Department gave 17 such groups $39.4 million in taxpayer funds to manage programs involving exchange students.
One of those groups, Aspect Foundation, received $1.08 million of those funds. However, Aspect came under fire this year after students from Europe, Africa and South America -- whom the California-based foundation had placed in Scranton, Pennsylvania -- came forward with allegations of mistreatment and abandonment.
CNN aired a detailed report on the case in July, after which the State Department said it would set up a toll-free telephone number that foreign exchange students could use to report problems and tighten its oversight of government-funded exchange student programs.
The inspector general's report notes that previous audits of the State Department's Bureau of Educational and Cultural Affairs (ECA), which also found deficiencies in program oversight, found the department slow to make changes.
"The incidents in Northeastern Pennsylvania were allowed to happen, in part, because of a lack of clear regulations that allowed sponsor organizations to interpret the rules in a manner that ultimately endangered these students," said Sen. Bob Casey, D-Pennsylvania, on Thursday.
In May, Casey pushed for an investigation into the Department of State's oversight of youth exchange programs following reports out of Scranton.
One student was placed in a Scranton home with a person who had been convicted of a drug-related felony, Lackawanna County, Pennsylvania, District Attorney Andrew Jarbola has told CNN. Some students were so malnourished that one was treated in a hospital for dehydration; another was put up in a home that was later condemned by the city, he said.
The families that housed the students say the allegations are untrue. The Aspect Foundation first denied any problems existed, then said it had corrected them and fired those responsible.
The State Department sanctioned Aspect by reducing the number of students it can bring over for the 2010-2011 school year, a penalty that amounted to a loss of revenue of about $540,000, according to the department.
"We at the Department of State recognize [because we] are responsible for this program we have to make sure we are aggressively overseeing this program and make sure children are well-suited," said State Department spokesman P.J. Crowley at the time.
The inspector general's report released Thursday does not specifically mention Aspect. It does review four State Department programs, including Youth Exchange Study (YES) and the Future Leaders Exchange (FLEX), both of which have given grants to the foundation.
The report calls on the Bureau of Educational and Cultural Affairs, which oversees the grant programs, to establish requirements for criminal history checks of host families and put more resources into site visits at placement groups.
"The Department of State has taken action to rectify its failure in the oversight and monitoring of exchange programs," Casey said. "However, the real measure of progress will be what specific steps are taken to prevent this problem from happening again."

E-mail to a friend

All About U.S. Department of State • Education