By Ed Rollins
CNN Senior Political Contributor





Editor's note: Ed Rollins, a senior political contributor for CNN, is senior presidential fellow at the Kalikow Center for the Study of the American Presidency at Hofstra University. He was White House political director for President Reagan and chairman of the National Republican Congressional Committee.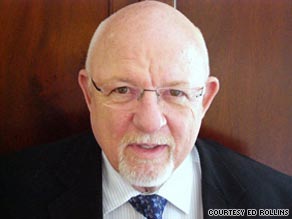 Ed Rollins says his mother's generation helped create opportunities for today's women.
NEW YORK (CNN) -- My mother died last week. Mary Elizabeth Rollins was 91 and had lived a glorious and full life.
As I was flying to California for her funeral, I read the Time magazine cover story written by my friend, the superb writer Nancy Gibbs, titled, "The State of the American Woman." This article no doubt was inspired by a fascinating new report released last week: The Shriver Report, "A Woman's Nation Changes Everything," sponsored by California's first lady and former news reporter Maria Shriver and the Center for American Progress, a Washington think tank.
To quote from the report: This is not just a women's story. This is a report about how women becoming half of the nation's workers "changes everything" for men, women, and their families.
And I reflected on the changing roles of women in my mother's lifetime, I knew how happy and proud she would be for the opportunities today's women -- including her daughters, granddaughters and great granddaughters -- would have. In a way she was not just a spectator to those changes, she was a participant and a pioneer. She was not a woman's libber. She just got up every day and led by example.
She was born in Boston, Massachusetts, in 1918, the oldest child of Irish immigrants.
Don't Miss
She was a remarkable woman who lost her own mother at 16. She raised her four younger brothers and sister, the two youngest being 4 and 5, while finishing high school and never missed a beat. Although an outstanding student, her family obligations eliminated the possibility of going on to college. Her father had a job that kept him away from home most weeks of the month and she cooked and cleaned and ran a household while her classmates got to do the ordinary things high school kids do. She never complained.
She married my father, her high school sweetheart in October of 1941 on short notice. With the war raging in Europe and the Pacific, my father who, in 1939 had volunteered for a year of service in the National Guard in Massachusetts, was activated indefinitely to serve at the pleasure of his country.
His unit, the 211th Coast Artillery Regiment was being dispatched to fight somewhere in the Pacific when the Japanese bombed Pearl Harbor. His anti-aircraft artillery battalion was on its way to California to ship out but was suddenly reassigned to protect military installations in the San Francisco Bay area including Mare Island Shipyard in Vallejo, California, the largest submarine base on the West Coast.
Knowing he was going to be stateside for a few months, he sent for his new bride and she came to California in April of 1942 and worked in the war effort at the Army arsenal nearby.
The honeymoon was short lived, as my father was reassigned to the Aleutians after the Japanese invaded the islands in June 1942. My mother, pregnant with yours truly, returned to Boston and didn't see my father for another 22 months.
Shortly after being released from the service, my mom and dad headed to California with their 4-year-old son. It was a glorious time to be in California, the population was less than 10 million, and many who moved there found it a place of dreams and opportunities. He went to work the second day he arrived at Mare Island shipyard, the same place he had guarded during the war, and spent the next three decades building and repairing nuclear submarines.
My mother moved right on from mothering her siblings to mothering her own without missing a beat. Cooking, cleaning, ironing and doing everything she could for us was her full time job. When I was in high school and things got financially rough with five kids going to Catholic schools, she went to work in Kaiser Hospital in Vallejo.
At that time in 1967, only one third of women worked outside the home. She worked first as the night switchboard operator. She would arrive home exhausted at 7 a.m., cook our breakfast and get us off to school. She would then sleep a few hours before getting up and doing her housework before we returned home from school.
She continued to work at home at the same pace. At work she was full time and took any assignment or class she could to advance and get on to the day shift. Her children still always came first and I can attest we were never neglected. She worked for the next 20 years and retired as the business office manager handling industrial claims for Mare Island workers. After retirement she volunteered for another 20 years in the local hospital serving sick patients and helping in any way she could.
Her life revolved around her family, her faith, and her friends. She was a strong woman who together with my late father -- they were married for 65 years -- held it all together with an energy and joy that inspired others.
By the end of this year, the majority of workers in this country will be women, as are the majority of voters. America could just as easily have elected Hillary Clinton president as President Obama.
Mom would be proud of the progress women have made in her decades on this earth. She would be saddened that many of those same successful women are forced to have greater anxiety about financial security. But the life of her youngest grandchild, my 14- year-old daughter, will be full of opportunity that my mother's generation could only dream of. Many women like her helped make those opportunities come about and flourish. We are all grateful. And you will not be forgotten.

The opinions expressed in this commentary are solely those of Ed Rollins.
E-mail to a friend

All About Barack Obama • Maria Shriver • Hillary Clinton