WASHINGTON (CNN) -- Latinos were once unfamiliar to more than half of all Americans, but a new poll indicates that two-thirds of those surveyed now say they have at least some contact with Latinos where they live, work or shop.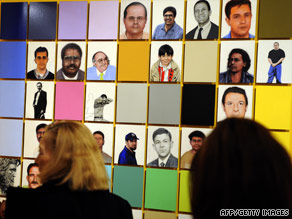 The Museo del Barrio, dedicated to the work of Latino artists, opened Saturday in New York City.
Sixty-six percent of people questioned in a CNN/Opinion Research Corp. survey released Wednesday say they have some or a lot of contact with Latinos. That's up 15 points from 1990.
"The jump in contact is a result of the growing number of Latinos and their growing presence in all 50 states," said CNN polling director Keating Holland. "But familiarity is not the same as knowledge."
The U.S. Census Bureau estimates that roughly six in 10 U.S. Latinos were born in the United States.

Watch how Latinos are gaining clout »
"But nearly half of people we questioned said they assume that Latinos who they have never met are immigrants, and one in five believe they are illegal immigrants," added Holland.
That may be one reason why nearly nine in 10 surveyed believe that census workers should ask people whether they are in the country legally when they go door to door next April. Full poll results (PDF)
Don't Miss

According to the poll, 57 percent of all Americans say that Latinos face a lot or some discrimination that hurts their chances to get good jobs. That's down nine points from two decades ago, but is slightly higher than the 53 percent who now feel that way about job discrimination against African-Americans.
The CNN/Opinion Research Corp. poll was conducted October 16-18, with 1,038 adult Americans questioned by telephone. The survey's sampling error is plus or minus 3 percentage points.
E-mail to a friend

CNN deputy political director Paul Steinhauser contributed to this report.
All About Hispanic and Latino Issues • Immigration • U.S. Census Bureau • Opinion Research Corporation