By Laurie Ure
CNN





WASHINGTON (CNN) -- Though the percentage of Latinos in the U.S. military remains lower than the percentage in the general population, gains are being made in efforts to increase diversity in the military, a recent study shows.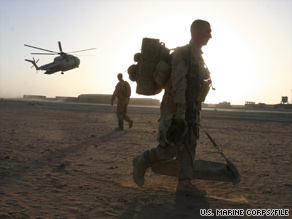 The Rand Corporation says 11.4 percent of Army recruits were Hispanic in 2007, up from just 6.6 percent in 1994.
In 2007, the percentage of Army recruits who were Hispanic was 11.4 percent, up from just 6.6 percent in 1994, according to the study by the Rand Corporation. For the Navy, the percentage of recruits who were Latino rose to 15 percent from 8.9 percent.
That success can be directly related to specific signing incentives, the study found.
Martin Enriquez of Los Angeles, California, said he was inspired to enlist in part because of the signing bonus but even more because of the education benefits.
"They gave me a thousand dollars for my enlistment bonus, but they gave me $71,600 for my school," he said.
The lure of a higher education has proven to be a strong incentive for the Latino population.
The Rand research shows that Latinos with high school education and above-average test scores respond well to Army educational benefits and salaries, but are less motivated by Army enlistment bonuses. Rand estimates that a 10 percent increase military salaries is associated with about a 24 percent increase in Hispanic Army enlistments, whereas a 10 percent increase in signing bonuses yielded a little over a 1 percent increase.
"Hispanic young adults are very responsive to incentives, particularly educational benefits, for example, as well as military pay, and both have increased substantially over the last seven and eight years," said Beth Asch, the Rand study's author.
Comparable black Army applicants, meanwhile, respond better to salary and bonus incentives, according to the study, whereas white enlistments are more responsive to military pay and recruiters than to educational benefits and bonuses.
Karen Liliana Barrientos, 17, said she joined the Army to advance her education.
"That $81,000 is the GI bill, for me to go attend college after my four years [in the military]," the high school senior told CNN. "After I'm done, while I'm in the Army I could transfer that money to somebody else in my family."
Barrientos' mother signed the parental consent form so her daughter could enlist.
"Ever since I was a little kid I wanted to join because I would see the commercials and be like, 'Oh, that looks so cool,' " the younger Barrientos said. "I know the training is not going to be a walk in the park, but I'm ready for it."
Matching Latino recruiters with prospective Latino recruits makes a difference as well, the Rand study found.
"When you targeted, say, a Hispanic recruiter to Hispanic applicants, or to youth, it was much more effective than just having any old recruiter," Asch said.
Speaking Spanish and relating to the recruit's family is a huge plus, a recruiter said.
"If you can't connect with the family as a whole in the Latino community, you're not going to get through to that person," said Staff Sgt. Robert Hernandez, a Los Angeles-based recruiter. Hernandez told CNN that when he enlisted in the Army, although it was ultimately his decision, he consulted his entire family and strongly considered their input before signing.
While advanced education tops most Latino recruiting incentives, there's another draw that has proven effective.
Hernandez said that joining the military can put first-generation Latinos on a path to U.S. citizenship.
"Somebody who's, let's say, a resident, and is having [difficulty] dealing with the issue of becoming a citizen. They can get that in the Army," he told CNN.
Victor Dennis was born in Honduras and immigrated to Alexandria, Virginia, eight years ago. He spoke no English initially.
"When I started school, I couldn't even tell people I needed to go to the bathroom," he said.
Dennis joined the Army this year for career opportunities and a chance to become an American citizen, he said.
"They're helping me out with giving me so much benefits," he explained. "They're giving me a job, and they're going to also try to give me my citizenship. I said, 'That's awesome! That sounds great. That makes it better for me.' "
The Defense Department recognizes the need to make the armed forces proportionately reflect the population that the U.S. military defends. While pleased with some of the most recent numbers, officials admit work remains to be done in the officer ranks.
High unemployment rates helped military recruitment efforts in recent months, so much so that the Army estimates it's spending more money than necessary per recruit. So in 2010, the budget will be trimmed 11 percent, according to Bill Carr, deputy undersecretary of defense for military personnel.
"We fight the good fight to be sure that the adjustment is no more than it should be in order to achieve the goals," Carr said.
The Rand study looked at what might happen with budget cuts.
"Cutting of bonuses would have a more negative effect on black enlistments," Asch said.
"On the other hand if they cut military pay, which I doubt they'd do, but what they might do is let military pay grow at a slower rate than civilian pay. That would tend to have a more negative effect on Hispanic recruits."
E-mail to a friend

All About U.S. Army • Hispanic and Latino Issues • U.S. Navy