NEW YORK (CNN) -- Families of three U.S. hikers detained by Iran submitted a 2,500-signature petition to Tehran's U.N. mission Thursday, appealing for their release "as soon as possible."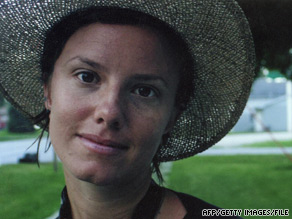 An undated family photo shows Sarah Shourd, one of three U.S. hikers detained in Iran since July 31.
Shane Bauer, Sarah Shourd and Josh Fattal were detained July 31 after reportedly straying into Iran while hiking in northern Iraq.
"The families, friends and supporters of Shane, Sarah and Josh share the deep hope that the Islamic Republic of Iran will show compassion in this unfortunate case and release them as soon as possible," the petition says.
It was signed online at freethehikers.org and at vigils held across the nation.
Switzerland's ambassador to Iran paid the three a consular visit last month and said they were in good condition, but they have had no direct contact with relatives, the families said in a news release. Switzerland handles U.S. consular matters in Tehran, as the United States and Iran have no diplomatic relations.
President Mahmoud Ahmadinejad of Iran said last month that the Americans entered his country illegally, "an act that is considered a crime everywhere."
He insisted that he had no control over the case.
"The judiciary handles these cases. The judiciary in Iran is completely independent and no one can interfere with the process of the law and work of the judge," he told The Associated Press.
However, he added, "what I can ask is that the judiciary expedite the process and give it its full attention ... and basically look at the case with maximum leniency."
Relatives of the hikers expressed gratitude for those comments. "President Ahmadinejad said he sympathizes with our plight, and we appreciate that," said Cindy Hickey, the mother of Shane Bauer and a spokeswoman for the families.
"We urge the Iranian authorities to act on the president's words and let our children return to us as soon as possible," she said.
"Our children have been detained for 11 weeks, and every hour they remain in detention brings us more heartache. The support we've received from so many people who hope like we do that Shane, Sarah and Josh will be allowed to get on with their lives has been an extraordinary source of strength."
The Americans entered northern Iraq from Turkey on July 28 during a planned five-day hike. Bauer and Shourd had been living in Damascus, Syria; Fattal was visiting. They set out to hike in northern Iraq's Kurdistan region with a fourth friend, Shon Meckfessel, who has said he had a cold and decided to stay behind that day. He also said his friends did not know they were near the border and made "a simple and regrettable mistake" by crossing into Iran.
Relatives have said the three accidentally strayed into Iran across an unmarked border.
Authorities in Iran charged the three with illegally entering the country, according to the semi-official Fars News Agency.
E-mail to a friend

All About Iran • United Nations • Hiking and Backpacking