By Bob Greene
CNN Contributor





Editor's note: CNN contributor Bob Greene is a best-selling author whose new book is "Late Edition: A Love Story."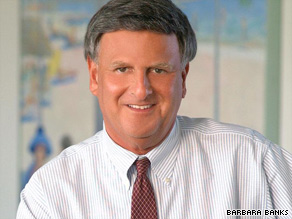 Bob Greene says the world won't know what Myles Weathers did with 3,000 stolen DVDs until his sentencing.
(CNN) -- It isn't exactly the crime of the century.
(Well ... maybe it is, at least symbolically, the crime of the century -- the 21st century. Because it's a crime that could not have taken place during most of the 20th century.)
In Springfield, Massachusetts, recently, a fellow by the name of Myles Weathers entered a guilty plea before U.S. District Judge Michael A. Ponsor. What Weathers, 49, a former U.S. Postal Service employee, was admitting to was most definitely a federal offense: stealing items from the U.S. mail.
Specifically, Weathers admitted stealing Netflix movies -- the DVDs in the bright red envelopes -- as they were moving on a sorting belt through the postal facility to which he was assigned.
He didn't steal one movie.
Or two.
Or a hundred.
Weathers admitted stealing more than 3,000 movies.
What did he do with them?
His defense attorney, Edward Fogarty, knows the answer, but said he would prefer not to disclose it to me. The federal prosecutor, Michelle L. Dineen Jerrett, told me she could not discuss the case beyond what has already come out in open court, and a motive for swiping the movies has not made it into testimony yet. That particular secret is expected to be revealed when Weathers is sentenced the week before Christmas.
But logic would tell you that Weathers filched the movies -- he allegedly stashed them in his backpack over the course of a year -- for one of two reasons:
Because he wanted to watch them at home.
Or because he wanted to sell them to other people, so they could watch them at home.
(I suppose there is a third, two-for-one special, possibility: that Weathers wanted to watch them at home, after which he could sell them to other people who could then watch them at home.)
This is a very modern crime. Netflix was not founded until 1997. But it is one of those crimes with the potential to make you say to yourself: Yes, he was wrong to do it, but it's easy to understand what could have lured him.
Inside each of those deceptively flimsy envelopes is Hollywood gold. You would never consider sending $40 million through the U.S. mail, but Netflix routinely mails out Hollywood blockbusters that had production budgets of $40 million and up. The movie industry was built on the concept of glittering temptation -- the ability to tempt customers to come inside a theater is how vast fortunes were made. Now all of that temptation is constantly floating through America's post offices.
Netflix says that it ships 2 million DVDs a day. It was probably inevitable that some of them would not make it to their intended subscribers.
Although 3,000 somehow ending up in one person's backpack does seem a bit excessive, which is why Myles Weathers finds himself in the situation he is in.
In a backhanded way, this would seem to be a compliment to Netflix, or at least a testament to its newfound place in the nation's life. What, as recently as the mid-1990s, was unheard of -- a dizzying assortment of movies (Netflix offers some 100,000 titles) available in your mailbox, usually in one business day -- has become as familiar a delivery as that provided by the milkman of yore. Netflix says that it has more then 10 million subscribers.
(A few paragraphs above this one, I used the word "blockbusters." The first champion of movie rentals, Blockbuster, with its stores at one time dotting seemingly every neighborhood, belatedly entered the movies-by-mail business, too. In fact, federal prosecutors say that some of the movies that ended up in Myles Weathers' backpack were mailed by Blockbuster. But in virtually every news story about this case, he is referred to simply as a Netflix thief -- another tribute to how the company came to dominate the movies-by-mail landscape.)
There must be good reasons for people to go sit in traditional movie theaters these days, and I'm sure there is a theater-operators' association that would be glad to enumerate them. But between people jabbering in the row behind you, and people in the seats in front of you casting a distracting glow into the darkness as they check for messages on their phone screens, and people in adjacent seats coughing or crinkling plastic candy wrappers during key moments of dialogue....
Well, it's not surprising that Netflix has become such a success. And if theater operators needed another reason to worry that herds of strangers might not jam shoulder-to-shoulder into the multiplexes in coming months, here are two one-syllable words for them to ponder:
Swine flu.
I have never been much of a moviegoer; I have long averaged maybe one visit to a movie theater a year; two in a crazy-about-the-movies year.
But, on the recommendation of a friend, I joined Netflix in January 2004. Before writing today's column, I checked my rental activity.
In the time since joining, I have watched -- I know, this is pathetic -- 342 movies. More than 400, if you count each episode of "The Sopranos" as a separate film.
I mention this only as evidence of how addictive the service can become, even for a non-movie buff. Surely this has implications for network television executives who wonder where their audiences have gone; and book publishers who wonder where their readers have gone; and, not so incidentally, for Myles Weathers, the man who made off with those 3,000 DVDs that Netflix had mailed to someone else.
The story of what drove him to do it, when it is disclosed at his sentencing hearing, promises to be fascinating.
It might make a pretty good movie.
The opinions expressed in this commentary are solely those of Bob Greene.
E-mail to a friend

All About Netflix Inc. • U.S. Postal Service