(CNN) -- Millions of Californians will duck for cover Thursday morning in one of the largest earthquake drills in the world.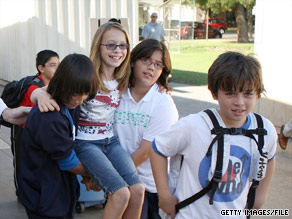 Elementary school students in Burbank, California, take part in last year's earthquake drill.
"The Great California Shakeout" will kick off at 10:15 a.m. at schools, museums, fire stations and other sites across the state.
More than 6 million people have registered to take part in the drill, sponsored by various state agencies. About 5.5 million Californians participated in last year's drill, organizers said. iReport.com: Are you taking part in California's earthquake drill?
Senior citizens at the Vallecito Mobile Home Park in Ventura County were among last year's participants. They took cover for three minutes and some pretended to be injured so emergency workers could practice safety procedures.
This year's participants also can watch an animated video that shows how much damage a magnitude 7.8 earthquake can cause. iReport.com: Museum undergoes "fake quake" drill
Thursday's event comes two days before the 20th anniversary of the Loma Prieta earthquake. The magnitude 6.9 quake rocked Northern California in 1989, killing dozens, collapsing a 50-foot section of the San Francisco-Oakland Bay Bridge, damaging thousands of homes, and interrupting baseball's World Series.
E-mail to a friend

All About Earthquakes • California