By Bill Mears
CNN Supreme Court Producer





MOJAVE NATIONAL PRESERVE, California (CNN) -- Henry and Wanda Sandoz greet their visitors with a little warning: watch out for the "Mojave Greens," their name for "Crotalus scutulatus," the local rattlesnakes that inhabit the area around Sunrise Rock.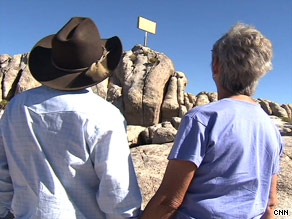 Henry and Wanda Sandoz stare up at the now-boxed 6-foot metal cross at the center of a Supreme Court case.
The Sandozes -- longtime desert residents -- have come back to this lonely spot to help maintain a metal cross, whose presence in a vast national park was debated Wednesday in a major case before the U.S. Supreme Court.
For them, the fight is not as much about the Constitution as it is a promise to a friend.
"He was an old miner who lived up in the hills and we befriended him," said Wanda Sandoz. "And he would come over to our house at least once a week to have dinner, and he was always at our house on holidays. He was part of our family and we really loved him."
The Mojave Memorial Cross was erected back in 1934 by that friend, Riley Bembry, a World War I veteran who wanted to honor soldiers who had perished in the "war to end all wars." The symbol he and his fellow "doughboys" (U.S. infantry in World War I) chose was a simple Latin cross, typical of many veteran memorials at that time.
Before Bembry died in 1984, he asked the Sandozes to keep an eye on it, and they have. Henry Sandoz replaced the original wooden cross with a 6-foot metal pole overlooking the high desert, surrounded by endless Joshua trees and little lizards scurrying underfoot.
"We just love our veterans and we feel they should be honored," Wanda Sandoz, 65, told CNN. "And this right here in this little piece of our world, that's how we did it."
Henry Sandoz, 70, was more blunt: "It was put here by the veterans, for the veterans, of all wars, and that's where it should stay."

Watch Henry and Wanda Sandoz talk about the memorial with CNN's Kate Bolduan »
Another veteran with ties to the preserve is Frank Buono, who used to be the deputy superintendent of the park. He filed the original lawsuit protesting the cross.
"He's both a veteran and a devout Catholic but believes that the government sponsorship and favoritism of religion is not a good thing" Peter Eliasberg, an ACLU lawyer, said of his client. The presence of the cross to Buono is "really inconsistent with his beliefs and he thinks that the government is, in effect, misappropriating this sacred symbol and trying to give it just a secular meaning."
Now retired and living in Arizona, Buono, 62, insists state neutrality on matters of faith be maintained, according to his attorney.
Personal animosity aimed at Buono has proliferated on the Internet, and among some veterans, Eliasberg said.
Eliasberg said "it has actually only become personal and nasty on one side" against Buono. "I think it's really sad that veterans' organizations would say that Mr. Buono, who did service to his country for many, many years not only in the National Park Service but also as a military veteran, is unpatriotic."
Buono would not agree to an on-camera interview.
Don't Miss
He also did not attend Wednesday' arguments before the justices, but the Sandozes were there, with Henry sporting a black cowboy hat.
Wanda appeared a little concerned that the cross' function as a war memorial didn't figure in the arguments.
Henry said the justices "probably need to look in their own hearts, and they would get a whole different aspect if there were any against it."
The couple travels 140 miles each way to take care of the cross, now boarded up by a federal judge until the dispute is finally resolved. They clean up any trash in the area and make certain that the cross is still there.

"Up until the box went on it, I would replace it when it got knocked down, repair it," said Henry." The last time, I had to get a couple of cowboys across the way and they helped me put it up. We had to literally to hoist it up because it's heavy, 3-inch pipe, and filled it with cement. I put it up to stay."
Now the justices ultimately will decide whether the Mojave Memorial Cross will continue to do just that.
E-mail to a friend

All About U.S. Supreme Court • Mojave Desert • Religion • American Civil Liberties Union