By Chris Welch
CNN





ST. PAUL, MINNESOTA (CNN) -- Just a few years ago, Ron Kenebrew was in prison. When he got out, he moved from Arizona to Minnesota, but he soon wound up homeless.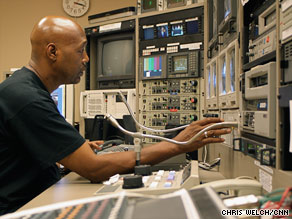 Ron Kenebrew directs "Voices for Change" from the control room of the television studio.
It was at that point that he realized it was time to turn his life around.
"I had time to re-evaluate my life," Kenebrew says, "and find the path that I'm supposed to be on."
He says homelessness can be one of two things: "a place in despair or ... a slingshot to opportunity."
It's clear he chose the latter.
"Now it's all about giving back," he says.
He's doing that through a cable-access TV show. But it's not just any local program. This show is produced and presented by people who've experienced exactly what it means to be homeless.
It's part of a multimedia collaborative created by Luis Alvarenga, a former TV and radio reporter from El Salvador who now works as a pastor at St. Paul's First Lutheran Church. His focus there has largely been on using cable television as an outreach medium. The latest in his series of programs has been a weekly cable access show titled "Voices for Change."
Alvarenga says the program accomplishes two things. Not only does it give those in the homeless community a much-needed voice, it also provides hands-on training and, in the end, a marketable skill.
"When they're in the streets they can't work," Alvarenga explains. "And that's my goal, that a person can come in and learn a skill."
"I am amazed that many of the people who come from the streets are sometimes well-educated and also very versatile in computer skills," he adds. "My hope is that they will understand solidarity, what it means to work together with others, so they can achieve a skill, use it for themselves in the future."

Watch how the program works »
The men and women are allowed access to the local studios of the St. Paul Neighborhood Network.
Kenebrew has even taken additional classes through the station, learning about cameras, editing equipment, producing and directing. He says he's thinking about possibly becoming a cinematographer one day.
Kenebrew has already put what he's learned to use, even receiving some reimbursement for shooting freelance videos for high schools.
"[I want to] find something that I can offer and make a positive contribution," says Kenebrew, stressing that the collaborative is nothing without the whole team.
"The components of the team comprise disabled people, a pastor ...people from homelessness and some who have fell along the waysides, as well," Kenebrew says. "So now we ... as a group really want to be the voice of change."
Ted Dennis, the program's host and chairman of the non-profit group also titled Voices for Change, has frequently been homeless himself. Dennis first introduced Kenebrew to the idea.
"The most rewarding part," Dennis says, "[is] the idea that we're changing the image of the stereotypical homeless person."
"Because of our efforts on the air ... people think about what it means -- who's homeless, what it means to be homeless, what it means to call someone homeless -- differently."
For Kenebrew, being part of a show that centers on this issue means a lot.

"I came out of that community," he says. "So wanting to make a success story out of a situation of despair is the engine that drives my mind."
"A door was opened for me, us, the homeless community, to show that a situation can turn from homelessness to hopefulness."
E-mail to a friend

All About Coalition for the Homeless • Minnesota