By Ashley Hayes
CNN





(CNN) -- It was a moment vividly depicted in the movie about her life: 7-year-old Helen Keller, holding one hand under a water pump as her teacher spelled "W-A-T-E-R" into her other hand.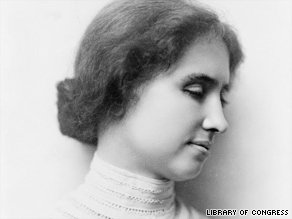 The statue of Helen Keller will be "a wonderful addition" to the National Statuary Hall, one expert said.
In that moment, Keller, an Alabama native who lost her sight and hearing to illness as a toddler, understood that meanings were hidden in the manual alphabet shapes her teacher, Anne Sullivan, had taught her to make with her hands. The moment was shown in the play -- later made into a movie -- "The Miracle Worker."
On Wednesday, a statue commemorating her 1887 breakthrough will be unveiled in the U.S. Capitol's National Statuary Hall, the first statue in the Capitol of a person with a disability, as well as the first of a child, according to the Alabama governor's office.
"It's always good to realize how much of an impact people with disabilities have made on the history and landscape of our country," said Nancy Starnes, director of external affairs for the Washington-based National Organization on Disability. "I'm excited that they're going to be doing this. I think it's going to be a wonderful addition."
In 1997, a Franklin Delano Roosevelt memorial that opened near the National Mall drew complaints from disability advocates because its statue of the former president, who had polio, did not show Roosevelt in a wheelchair.
In 2001, former President Clinton unveiled an addition to the memorial including a new statue of the four-term president sitting in a wheelchair.
Keller, born in Tuscumbia in northwest Alabama, learned to speak at the age of 10 by putting her hands on Sullivan's mouth when she talked. She eventually graduated from Radcliffe College, then the women's branch of Harvard University, and became a prolific author and speaker who was endowed with numerous honors, including the Presidential Medal of Freedom. She died in 1968.
Since 1864, each state has been allowed to place two statues in the Capitol. In 2002, Congress changed the law to allow states to change their statues. Then-U.S. Rep. Bob Riley, now Alabama's governor, suggested that the state place a statue of Keller, and the state Legislature passed a resolution asking Congress to accept a statue of Keller as a gift.
"Helen Keller was an extraordinary Alabamian who showed us the power of a determined human spirit can overcome any obstacle," Riley said in a statement issued by his office Monday. "The remarkable moment at the water pump, so vividly captured by this statue, will inspire countless others and remind them there truly are no limits to what people can accomplish."
A committee, with Alabama first lady Patsy Riley as honorary chairman, raised private donations for the statue and selected Utah bronze sculpture artist Edward Hlavka to create the piece.
The 600-pound statue is made of bronze with a base of Alabama marble, Riley's office said.
"I hope we will continue to acknowledge that disability doesn't equate with inability in this country," Starnes said.
She said there are many opportunities each year, such as Women's History Month, to recognize those with disabilities.
"Disability really is an overlay over any discussion about people in this country," she said. "It's just time to take it off the shelf that's labeled 'special.' "
Andy Imparato, president and CEO of the American Association of People with Disabilities, noted that the statue will be seen by schoolchildren visiting the Capitol.
"She was a real pioneer, as a woman, as a person with a disability, as an educator," he said of Keller. "We see it as helping to raise awareness that people with disabilities can do anything, and our history as a movement is a lot longer than some people assume."
Keller's statue will replace one depicting Jabez Curry in the Capitol Gallery. Curry was a Georgia native who served as president of Howard College, which later became Samford University in Birmingham. The Curry statue, which has represented Alabama in the Capitol since 1908, is being sent back to Alabama for display at the university.
The other statue representing Alabama in the Capitol is of Joseph "Fightin' Joe" Wheeler, a Confederate general during the Civil War who, three decades later, volunteered to serve in the Spanish-American War at age 62 and attained the same rank in the U.S. Army. He was the only one of 425 Confederate generals to do so, according to a biography posted on the Fort Sam Houston Museum's Web site. His statue was donated by the state in 1925, Riley's office said.
E-mail to a friend

All About Helen Keller • Alabama • U.S. Capitol