By Jeremy Moorhead
CNN





VIENNA, Virginia (CNN) -- In the quiet and historic town of Vienna, Virginia, wedged between the nation's capital and busy commuter suburbs, sit a handful of eclectic "ma and pa shops" that still cater to a certain type of customer.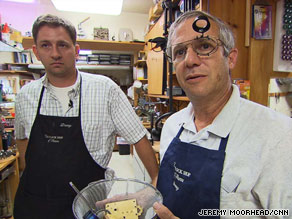 Donny Sobel, right, is teaching Ryan Johnson some tricks of the clock repair trade.
Among these unlikely stores, which cling to an old-fashioned way of doing business, sits an "old-timey" clock shop that has seen few changes in its nearly 40 years of existence.
The facade of The Clock Shop of Vienna looks like something out of a storybook, a mix between a giant cuckoo clock and German beer hall. And inside the large showroom, hundreds of proud, magnificent clocks ring out beautiful notes every quarter-hour.
"We have French clocks, mantle clocks [and] alarm clocks," explains Donny Sobel, a humble, soft-spoken clockmaker who, along with his wife, sister-in-law and mother, have run the operation since 1973.
"We have sold, restored and delivered innumerable clocks in the Washington area," says Sobel, who also makes house calls.
But on the second floor of the building is where the real magic happens.
It's Sobel's workshop, and it is where he and his team of expert clockmakers do all of the repairs -- by hand. The small shop, laden with every imaginable tool and gadget, brings to mind Geppetto's workshop. It's almost like watching the woodcarver himself create Pinocchio, only without the wood, of course.

Watch the painstaking work »
Sobel estimates that he and his team have restored more than 25,000 clocks since the shop opened -- an astounding number considering the meticulous work that goes into each repair; it can take anywhere from 16-24 months before completion, Sobel says.
Yet it is precisely this increasingly rare mechanical skill that separates Sobel's from other clock shops in the area.
"Everybody we talked to [before opening up the shop] said selling clocks is great, but whatever you do, don't go into clock repairing or restoring," Sobel explains. "You can't get anyone to do it right, so that was a clue to me to that this was a field that needed a little bit of help."
And if the last 30 years are any indication, Sobel was right. While the business of selling clocks has taken a hit with the rest of retail in the declining economy, clock repair has not, he says. In fact, he is busier than ever.
Nonetheless, he is concerned about the future of his clock-making craft, also known as horology.
"Last time I heard of someone coming out of high school saying [they] want to be a clockmaker would probably be me," Sobel says. "I hope to see people getting interested in this, [but] I don't really see it as a reality. There's not enough money in it to make it attractive to most of the young kids today."
Sobel is even willing to teach a competitor clock shop some tricks of the trade to keep the profession alive. When a young clockmaker named Ryan Johnson asked if he could come into Sobel's shop for advice, Sobel welcomed him. Johnson is part owner of a clock-making business he runs with his father-in-law in nearby Alexandria, Virginia.
"[Ryan] asked if he could come in and learn some pointers, like what my mentor Tony Saguto taught me," Sobel says.
The two quickly discovered that they had a great deal in common, most notably their dedication to their craft.
Sobel was the youngest member of the clock-making guild when he came out of school at age 23. Now Johnson, sitting at the back desk in Sobel's shop, is the self-proclaimed youngest person in the guild, at the age of 35.
Sobel says he appreciates the fact that some people are still willing to learn the trade, while Johnson acknowledges the importance of learning from the best.
"If you're taking on the responsibility of preserving someone's family piece, you need to make every effort possible to learn and be as knowledgeable as possible to do the right thing," Johnson says. "This trade is changing so fast, and the previous generation isn't going to be around to have someone to follow them up behind."
Despite his concerns over the future of his profession, Sobel says he accepts the passage of time, perhaps only as a clock-maker could.
"The passing of time, it doesn't bother me," he says. "It's a nice feeling to know that all these things are running because you helped them go."

Sobel says he still enjoys coming to work every day at his workshop and practicing this trade, one clock at a time.
"The business of clock-making and restoring has changed very little. ... The fact is, these antique clocks aren't going to be fixed by modern methods. One piece at a time is the way we used to do it, and one piece at a time is the way we still do it today."
E-mail to a friend