By Mike Miller
CNN





DANIA BEACH, Florida (CNN) -- Since 1956, Monroe Udell has been serving up ice cream the only way he knows -- the old-fashioned way.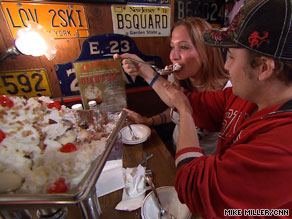 Jaxson's Ice Cream Parlor & Restaurant prides itself on its huge servings.
Udell moved his family in the mid-'40s from Connecticut with a dream of starting an ice cream shop featuring dozens of old family recipes. Ten years later, that dream came true when he opened up Jaxson's Ice Cream Parlor & Restaurant just south of Fort Lauderdale in Dania Beach, Florida.
Back in those days, Udell had to do just about everything to keep his small business going. "I made the ice cream myself, and I worked in the kitchen," he says with a broad smile on his face. "At night, I'd work on the fountain. I put in a lot of time." Slowly, Jaxson's started to expand as word spread about the parlor serving up not only enormous servings of freshly prepared ice cream but also large portions of sandwiches, burgers, hot dogs and fries. Udell says that's what made his parlor special. He knew the only way to succeed was to be different from everyone else. He decided to start serving up the largest scoops of ice cream in town.
He's proud to say that nothing has changed in more than 50 years -- with one exception. "A double-dip ice cream cone was 15 cents," recalls Udell. "A fudge sundae was 45 cents, and an ice cream soda was a quarter for our generous portions that we still serve today. The only thing that changes is the prices."
The ice cream that is served at Jaxson's is still made in the back of the store in machines that are just like the ones he used when he opened back in the mid-1950s.
Don't Miss
"It's still made right here like it used to be made with all the good fruit and nuts," says Udell. "And we haven't changed a thing. All our ice cream, all our toppings, and all our syrups ... everything is made here on the premises. We still do it the old-fashioned way."
That's exactly what keeps patrons coming back for more.
"The location is a landmark," Udell proudly states as he nods his head back and forth. "People know it! When they get off the plane, they stop here. That's their first stop and last stop."
And what ice cream creations are the people getting off the planes looking for? How about the Caramel Pecan Supreme. Or the Maple Walnut Delight. There's even one dish called "Sweetheart (Ain't She Sweet)," which has three scoops of vanilla ice cream, hot butterscotch fudge and a marshmallow sauce, plus a few other ingredients.
For those big birthday parties, you can try a dessert called "The Original Kitchen Sink," which comes in a big dish shaped like a -- you guessed it -- kitchen sink.
There's even the Punch Bowl that can serve a dozen people at a time.
"I want to be different, and I know how to be different," says Udell. "That's my success."

Watch as the shop serves up ice cream »
Attracting customers hasn't seemed to be much of a problem for Udell. He's created his own little niche in the ice cream parlor business. "We've had down times and good times with the economy," he says. "But we always manage to make a living."

And it's that will to succeed that's kept him going all of these years. "It's about six weeks since I had my quadruple bypass surgery," the 82-year-old Udell says in a low voice. "And here I am today, lucky to be here. I'm coming back to work as soon as the doctor releases me."
"I'm going to be here as long as I can," he slowly continues, "I hope another fifty years."
E-mail to a friend