By Eddie Cortes
CNN





COVINGTON, Georgia (CNN) -- From the Civil War to the taming of the West to the Kentucky Derby, horses have played an essential role in the forging of American history, and the farrier has been there for every stride.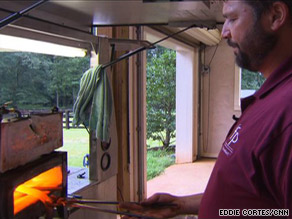 Doug Workman uses a forge to heat metal to 1,800 degrees so it can be shaped into a horseshoe.
Farriers are specialists in equine hoof care. They shoe horses to aid in the animal's movement and balance.
A lot of hard work and sweat is how farrier Doug Workman describes his job. Workman, a farrier for more than 20 years, is the current president of the Georgia Farriers Association, and he takes his trade seriously.
Workman makes horseshoes by hand in a process that hasn't changed in over a century. It starts with an iron oven called a forge that heats metal to an orange glow of 1,800 degrees. Hammer then crashes onto burning steel repeatedly, smashing and bending it, willing it into shape, all by the strength of man's arm.
Once the shoe is formed so that it fits to the horse's hoof like a glove, it must be attached. It is then that the farrier, with his head bent low, next to a thousand-pound horse, straddles the horse's leg between his own and drives nail into hoof.
Workman grew up around horses. As a teenager in Wyoming he began spending time with farriers and fell in love with the work. Traveling around the country, meeting with different farriers and learning different techniques, was how he honed his craft.
"It's a good deal," he says, "a good life."
The heyday for horseshoeing was at the turn of the 20th century, right before the invention of the car. It was a period in which horses were the main source of transportation and, in many cases, a person's livelihood. Today most horses are used for recreation but still require a farrier's touch.

Watch as hammer crashes into steel »
Don't Miss
A horse's hoof grows about a quarter-inch to three-eighths of an inch every month. If a shoe is left on too long, the hoof will grow out of balance and start damaging joints and tendons in the leg, says Workman. So it is necessary to trim hoofs and re-do horseshoes on a regular basis.
Most farriers nowadays care for about 200 horses, which means they're usually on a different farm every day plying their trade.
One day recently Workman and fellow farrier Dave Pervus were at the Star Light Farm in Covington, Georgia.
Pervus, a farrier for more than 12 years, says this is a detail-oriented work. They both stress the need for high-quality craftsmanship in their trade and understand the importance of a single nail out of place. A centuries-old proverb, they believe, illustrates the significance of what they do:
For want of a nail the shoe was lost.
For want of a shoe the horse was lost.
For want of a horse the rider was lost.
For want of a rider the battle was lost.
For want of a battle the kingdom was lost.
And all for the want of a horseshoe nail.
Workman says the economy has taken a toll on his industry but not as much as others.
Some of his clients have cut back to just shoeing the front two legs of their horses vs. shoeing all four. But most horse owners have a special relationship with their horses and think of them as children. As a result, Workman believes, their horses are not going to suffer a lot. "They might not take a vacation, but they'll keep their horses up," Workman says.
Farriers may not always have the best reputations, according to Pervus, who says people may think "we're just big oafs that wrestle horses all day." He explains that trying to maintain a horse's balance, soundness and health is a lot more difficult than merely nailing on a shoe.
Workman agrees.
"We are not just a strong back and a weak mind," he says. "We actually put a lot of effort into trying to further our profession."

The Georgia Farriers Association puts on clinics, contests and discussions; it promotes good work skills and brings farriers together to share information and techniques. The goal is to further the knowledge and skill of the job.
Workman doesn't see farriers going anywhere. As long as people use horses, he says, farriers will be needed.
E-mail to a friend