NEW YORK (CNN) -- A store owner in New York who is being hailed as a hero after rescuing a 4-year-old boy from a burning building said he plans to visit the child in the hospital Friday.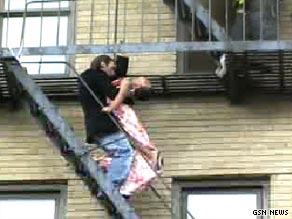 Horia Cretan climbed up a fire escape and helped save a boy through the window of a burning building.
Horia Cretan, who owns an electronics store in the Bronx structure where the fire broke out, also hopes to meet Christopher's parents for the first time, he told CNN's "American Morning."
The boy is expected to recover, Cretan said. The child was taken to Jacobi Medical Center, where a nurse said she couldn't provide his condition.
Cretan, who moved to the United States from Romania 15 years ago, said he was inside his store Wednesday when he heard a child's screams. It was about 4 p.m., he said, about the time children play outside after getting out of school, but he said the screams he heard were "totally different."
He reached a fire escape and climbed to the fourth floor, where a firefighter handed the boy to him through a smoke-clouded window, video from the scene shows.
"What I was worried about is, is he still alive? Because his head just dropped, and he wasn't helping himself or helping me," Cretan said. "He just couldn't hold his weight and he was unconscious."
While the firefighter was handing over the boy, other crew members were trying to get into the building's main entrance to make their way to the apartment where the fire was, the store owner said.
Cretan covered himself and the boy with a blanket or curtain to shield themselves from falling debris and glass, which cut the boy on the leg.

Watch Cretan describe the rescue »
Don't Miss
During the rescue, the boy's brother stood below, yelling, the rescuer said. Christopher was given oxygen on the ground and taken to the hospital.
Cretan said it wasn't the first time he rescued someone. He said he rescued his sister from a fire in Romania that killed their father. The 33-year-old Cretan said he was 12 years old at the time.
"It was a sad story, a tragic moment at the time," he said, referring to the Romanian incident.
"And you know, it had an impact on people around the neighborhood like it does right now. It's amazing. This just skyrocketed."
Cretan said he's received messages across the globe about the Bronx incident.

"This has become famous because somebody happened to be on the corner with the camera pretty much. You don't do things like this for merit. The merit in itself is you save somebody," Cretan said.
"And the whole community's just being great. Adopting me like a son, and I'm a part of a big family and I'm happy to have them in my life."
E-mail to a friend