By Patrick Oppmann
CNN





SEATTLE, Washington (CNN) -- In cities across the country, people with nowhere to live have done what many would have thought unthinkable before the economic crisis: moved into tents.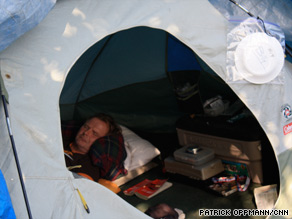 A camp resident sleeps in his tent in Seattle, Washington. Residents say the camp offers them a haven.
Tent camps once associated mainly with the "Hoovervilles" of the Great Depression are springing up in places as varied as Sacramento, California; Nashville, Tennessee; Pinellas County, Florida; Providence, Rhode Island; and Seattle, Washington.
The camps have often led to standoffs between local governments that say the camps violate housing ordinances and homeless rights advocates who argue that people struggling to get back on their feet need a permanent place to stay.
There are no definitive numbers on how many people have taken to living in homeless camps. A recent annual report from the Department of Housing and Urban Development showed an increase in homelessness among families while overall rates of homelessness stayed roughly the same.
But those numbers are only the initial waves of what could be a larger crisis, according to the National Alliance to End Homelessness.
"This data is the canary in the coal mine," Nan Roman, the alliance's president, wrote on the group's Web site. "Homelessness is a lagging indicator of economic tides, so there is concern that this new information could foreshadow sharp increases in homelessness in the future."

Watch as a CNN journalist spends days in a tent camp »
A year ago Terry Bailey, his wife and two teenage sons lived in Montana, where he worked as a truck driver for construction companies. But when the construction work dried up, the Baileys were faced with an onslaught of bills and no income.
"We are hard-working human beings that just can't make enough money to survive," Bailey said.
In a last-ditch attempt to avoid going bust, the Baileys moved to Seattle, where they heard there were jobs. Instead they found a high cost of living and few opportunities. City shelters, Bailey said, were often full and split up the family. The streets, he said, were too dangerous.

Watch how homeless camps are multiplying »
With nowhere else to go, the Baileys found Nickelsville, a homeless tent camp named after Seattle Mayor Greg Nickels, who camp residents claim has tried repeatedly to shut the camp down. The camp has roughly 80 residents and offers a safe haven for those without homes.
"This gives us a place where we can stay as a family," Bailey said. "We can stay together, we can prepare our food. We can live as a community with people who are in the same situation as us."
Before a homeless person can move into the camp, their names are checked against a county list of sex offenders to keep predators out. Drugs and alcohol are also prohibited, camp organizers said.
Camp resident Gregory Lewis said his drug addiction kept him living on the streets for years until he moved into Nickelsville. The camp, he said, helped him to get clean and "saved his life."
But life in the homeless camp is far from easy and never permanent. Residents live in cramped camping tents and in the last year have been forced to move nine times. The camp's latest location -- at a waterfront park overseen by the Port of Seattle -- may be closed down Wednesday as camp residents and city officials engage in their latest faceoff.

Port officials say the camp violates city codes. The officials add that they have tried to find the camp's residents another place to live. But Lewis said the camp is holding out for a permanent location.
"A lot of ... us want to be quote unquote 'normal,'" Lewis said. "I would like to be a contributing citizen to society with a good job and eventually help people like myself. When I am on the bus you wouldn't know I am homeless."
E-mail to a friend

All About Seattle