By Drew Griffin and Scott Bronstein
CNN Special Investigations Unit





MINNEAPOLIS, Minnesota (CNN) -- Mike Myser needed help, but he went to the wrong place to get it.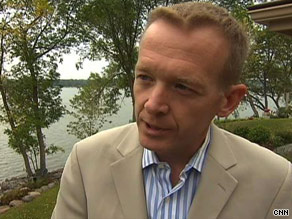 Mike Myser says he paid a recruiting firm to help him get a job and believes he was scammed.
A former vice president at a technology firm, he had quit to start a new business, but the economic downturn ended that opportunity before it began, leaving him out of work while caring for his father, who has dementia.
When he visited Careerbuilder.com, a well-known Internet job site, Myser was surprised to see that a recruiting company in his city, Minneapolis, had plenty of jobs, despite the economic slump. And when he contacted the Arthur Group, the firm's owner, Barry Trimble, told him his job search was over, Myser said.
"They had about 20 of the top jobs," Myser told CNN. "They had 100 percent placement, 100 percent -- that is what he told me."
He forked over several thousand dollars to Trimble in January. But he later came to believe it was all a sham. The jobs? "I believe they never existed," Myser said.
The Arthur Group Inc. and Trimble, who also is the firm's CEO, were sued Tuesday by Minnesota Attorney General Lori Swanson, accused of violating the state's consumer fraud and deceptive trade practices law. Swanson's office accuses the company of "baiting unemployed" workers and charging them between $3,000 and $8,000 to find them work, then "not living up to the company's promises."
More than a half-dozen other alleged victims shared experiences with CNN that were similar to Myser's. They say they believed the firm's entire focus was targeting upper-level executives with money who were desperate for employment, and fleecing them out of thousands of dollars.
"It really did play to my ego," said Michael Emerson, a father of three and the main breadwinner for his family. "[Trimble] told me I was one of the best candidates he had seen in the last several months. He had enough connections that he could guarantee he could find me a job over the next three months."
Emerson said the jobs were "guaranteed."
Trimble, who lives in a secluded home in Dellwood, Minnesota, declined an interview, although he "commended" CNN for trying to find him.
In a statement sent to CNN, he wrote: "Arthur Group was established to assist employers in finding new employees. We also provided services to improve certain candidates' materials and presentation skills, using industry-standard methodology. Unfortunately, the Arthur Group was not immune to the difficult economic times many of our valued clients have been facing."
Today, the Arthur Group's offices are shuttered. But former Arthur Group employees told CNN the firm closed not because of the economy, but because it was coming under scrutiny.
Four former employees told CNN the alleged victims are correct -- the firm was designed to ensnare highly paid executives. The former employees said they did not realize the scheme at first, but figured it out after working there. Most left shortly thereafter.
"You create the illusions that you have a bunch of jobs," said Pat Powers, a former Arthur Group vice president who also worked as a salesman. "But the screening is nothing about the jobs. The screening is about, is this guy going to be a good candidate, a nice victim to spend $3,000 on a resume and interview skills. Period."
The former employees say Trimble could have taken in as much as $3 million over the last three years from selling desperate candidates hope for jobs that didn't exist.
Such candidates were easy to find, Powers said. Minneapolis had plenty of out-of-work executives, reeled into the company's downtown offices by fake jobs posted online.
Asked how he fell for the alleged scheme, Myser said, "I knew you were going to ask that. ... I ask myself that all the time."
Trimble had previously been involved in a similar operation, according to officials at the attorney general's office. They told CNN that in 2005, Trimble paid a $75,000 fine for his role with a different job placement firm that the Minnesota attorney general successfully sued and shut down. State records show Trimble served 45 days in jail in 1996 after pleading guilty to a sex offense.
The attorney general's office has left a court summons and complaint forms -- for anyone else who may be a victim -- outside the door of the Arthur Group's shuttered offices. An eviction notice is nearby.
The Minnesota attorney general says the Arthur Group used Careerbuilder.com to find potential victims. In a statement, Careerbuilder.com said it would not discuss any specific client interactions, but pointed out that the site warns people using it to be cautious and provides a mechanism to report suspicious activity.
Officials at the Federal Trade Commission say that job scams and schemes are proliferating across the country, at every level of the economic ladder. Commission staffers bring criminal cases when they can, but there is often little they can do until they learn about people who have been scammed.
E-mail to a friend

All About Jobs and Labor • Minneapolis • U.S. Federal Trade Commission