(CNN) -- A lock break occurred on the Ohio River near Warsaw, Kentucky, on Sunday, stopping barge traffic for several hours as the Army Corps of Engineers investigated.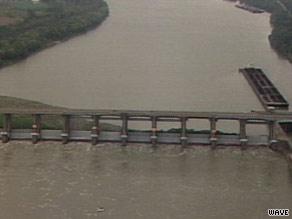 The lock break stopped traffic on the Ohio River about 65 miles northeast of Louisville, Kentucky.
The incident involved structures, and there were no reports of injuries.
All traffic on the river was stopped in both directions at about 9 a.m. ET, Corps spokesman Todd Hornback said. By 8 p.m., an auxiliary lock was set up to start allowing the half-dozen blocked barges through.
"It's going to take more time, but we're keeping the river open tonight," Hornback said.
The river is a major artery for commodities shipping, with more than 50 million tons of cargo passing through the affected area annually, according to a waterways organization.
It was not known what caused the break at the Markland Locks and Dam. Engineers were going to the site, about 65 miles northeast of Louisville, Kentucky, Hornback said.
The lock's gates are 1,200 feet long and 110 feet wide. A smaller auxiliary lock is 600 feet long and 110 feet wide.

Watch traffic backed up on Ohio River »
A lock is a section of a waterway, such as a river, that is closed off with gates. Vessels in transit enter the lock and the water level is raised or lowered in order to raise or lower the vessel to adjust to elevation changes.
One of the broken portions is known as a miter gate, Hornback said. The Corps of Engineers, on its Web site, says a miter gate "has two leaves that provide a closure at one end of the lock." They are so named because the two leaves meet at an angle pointing upstream and resembling a miter joint, the Web site said, referring to a joint meeting at a 45-degree angle, such as the corner of a picture frame.
A public policy organization, in a February 2008 report, graded the locks' performance as a D, "based primarily upon risk of failure due to unreliability of miter gates."
The federal government allocated $10.6 million to install new chamber miter gates, according to Waterways Council Inc., which describes itself as an organization "advocating a modern and well-maintained national system of ports and inland waterways."
Hornback said the work was scheduled for 2011, adding that it's unclear whether Sunday's break will speed that up.
"The risk is very high that a failure of the lock gates will occur, forcing traffic through the auxiliary lock for an extended period, causing huge delays and costs to the towing industry," the council said in the report last year.

Engineers hope to have the river back open as soon as possible, Hornback said, but an exact time frame was not known.
Some 55 million tons of commodities pass through the Markland Locks each year, according to the Waterways Council. The principal commodity passing through Markland is coal, which fuels numerous electric power plants along the Ohio River, and those plants typically stockpile only about a 30-day supply, the council said.
E-mail to a friend

All About Ohio River • Kentucky • U.S. Army Corps of Engineers