By Rachel Streitfeld
CNN





WASHINGTON (CNN) -- John Ellsworth remembers when his 20-year-old son called home from Iraq to proudly announce he was now a demolitions expert.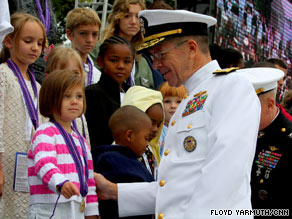 Adm. Mike Mullen, chairman of the Joint Chiefs, greets children of the fallen at a ceremony Saturday.
"I said, 'Son, you're 20 years old,'" Ellsworth ribbed his son gently. "'You are not an expert at anything.'"
What Ellsworth doesn't describe is the thudding anxiety he must have felt to hear his son was spending his days in Iraq hunting for explosives. Or the horror of the moment he learned his son had been successful in his mission -- but with devastating consequences.
Marine Lance Cpl. Justin Ellsworth had found a bomb, and then flung himself on it to save his unit. He died in the explosion in November 2004.
"I have to be, I guess, about as satisfied as a father could be," said Ellsworth, who is vice president of Families United for Our Troops and Their Mission. "He did his part. He knew what he was doing, he knew what he was getting into. And he made a difference."
Ellsworth, from Wixom, Michigan, came to Washington this week to join thousands of other grieving families at a Time of Remembrance ceremony on Capitol Hill. Organized by the White House Commission on Remembrance, the annual event honors families who have lost a loved one in combat.
On Saturday, dignitaries and military officials -- flanked by a Navy band and a color guard bearing all 50 state flags -- thanked the families for their sacrifice.
"Many families have told me that their loved ones died doing what they love. I also think that they died for the ones they loved," said Adm. Michael G. Mullen, chairman of the Joint Chiefs of Staff. "That sentiment is a wonderful message to us all, and hearing it has always helped me cope with those losses."
Mullen then joined officials from each branch of the military in a solemn salute to the children who lost a parent in combat this year. Many in the audience wiped away tears as the men in immaculate dress-white uniforms shook hands with and thanked the young children on stage.
There have been more than 840 U.S. military deaths in and around Afghanistan since Operation Enduring Freedom began in 2001; there have been more than 4,340 U.S. military deaths in Iraq since the war there began in 2003, according to the military.

Watch scenes from Saturday's ceremony honoring families of the fallen »
After the ceremony Saturday, in the shadow of the Capitol building, talk turned to service members still fighting in Iraq and Afghanistan.
Some families shy away from discussing politics, but many did said they trusted military leadership and urged politicians in Washington to do the same.
Don't Miss
"You have to be able to give the commanders on the ground what they request," said Ellsworth. "If it's more personnel, you need to give them more personnel. Let them do their job. We cannot run a war in Afghanistan from Washington, D.C. It's got to be done on boots on the ground."
He was alluding to a report by the commander of U.S. and NATO forces in Afghanistan, Gen. Stanley McChrystal, that calls for an influx of troops to the area. President Obama is now considering McChrystal's assessment.
Randy Johnson, who lost a brother in Iraq in 2004 and who is also affiliated with Families United, cautioned against losing sight of military gains in the thorny struggle against violent extremism in Afghanistan.
"We've just really become complacent with our success and all the hard work and sacrifice," Johnson, of Colton, Oregon, said. "And if those that have been lost could get us to this point, I think it would be a tragedy to become complacent and send them home before the job's done."

See photos from the Time of Remembrance ceremony »
Johnson said he has come to understand his brother better since National Guard Sgt. David Johnson was killed by a roadside bomb. He echoed the sentiments of many at the ceremony when he said service members are committed to seeing the wars through.

"It's a long struggle and there's no immediate short-term solution, and I believe the majority of everybody in uniform understands that and appreciates that. They'd rather be successful than to be unsuccessful," Johnson said.
"They'd rather deploy and do the job right than be sent home with the job incomplete."
E-mail to a friend

All About Michael G. Mullen • Afghanistan War • Barack Obama • Iraq War