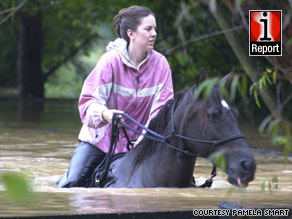 One iReporter captured the rescue of a group of horses that were up to their noses in water.
This week in iReport, heavy rains saturated the Atlanta,Georgia, area and iReporters show the flooding and damage in their neighborhoods. All across the nation, iReporters tried to conserve energy by ditching their cars for a day. And grown men shoveled down grits for a world championship title. Check out the video here

, or get a better idea of the stories below.
• Georgia floods -- Days of unrelenting rain soaked the metro Atlanta area, flooding highways, closing schools and forcing evacuations in some areas. There were some incredible images and compelling stories from Metro Atlanta residents, and from many others who helped their neighbors deal with the raging waters.
Don't Miss

• Going car-free for a day -- Americans love their cars, but energy consumption, traffic and pollution are becoming ever-increasing concerns. As part of CNN and iReport.com's ongoing "What If?" special, which seeks to explore small solutions to big problems, we asked readers to try to go car-free. We got some remarkable responses. Take the story of Daniel Gray of Belle Mead, New Jersey, a car reviewer whose job ironically forces him to use public transit. When he goes to pick up a car in New York, he can't just take a second car along with him. Gray told us his experiment with going completely car free doubled his trip from about an hour to more than two hours and included an unintentional detour to the local mall. Those pesky bus schedules! And then there's the hilarious cycling adventures of iReport humorist and video commentator Adam Siegel of Atlanta. The city is infamous for its traffic, but Siegel tried to bike to work. He had to get a slight tuneup at the local gas station, followed by a trial-by-fire experience learning how to shift gears on Atlanta's many hills. But he finally made it.
• Grits, grits, grits! iReporter Daniel Strickland captured the hunger and the competition at the World Grits Eating Championship in Bossier City, Louisiana. Renowned competitive eater Joey Chestnut was there shoveling it down, but "Humble" Bob Shoudt won the event. "The winner ate 18 pounds of grits. That's more than a bowling ball weighs. It's all crammed into his stomach.
E-mail to a friend