From Steve Brusk
CNN





PITTSBURGH, Pennsylvania (CNN) -- Pittsburgh conjures up visions of steel mills and gritty sports teams for many. The host city of this week's Group of 20 summit hopes to update that image.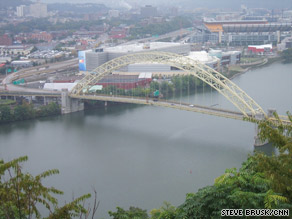 The G-20 summit offers Pittsburgh, Pennsylvania, a chance to update its old "rust belt" image.
The city, once known for shuttered steel mills and thousands of lost jobs, is now held up as a shining example for ways to weather a recession. That's why the G-20 chose Pittsburgh for its summit, at which representatives of the world's largest economies will meet from Thursday and Friday.
"Pittsburgh stands as a bold example of how to create jobs and industries while transitioning to a 21st-century economy," President Obama said earlier in September.
The city "will provide both a beautiful backdrop and a powerful example for our work ... in a place known as the city of bridges, we can come together to advance our common interest in a global recovery," Obama said.
It's been a 30-year transformation for Pittsburgh since the failing steel industry left the area with a 18.3 percent jobless rate in the early 1980s, said Dennis Yablonsky, head of the Allegheny Conference on Community Development.
In nearby Beaver County, three of every 10 people were out of work in 1983, he said.
"We did not abandon history," Yablonsky said. "We reinvented it. ... We were heavily dependent on one industry. Diversification is the key. You spread the risk across several industries."
Don't Miss
Technology, research and health care became larger parts of the economy, as what Yablonsky called an "eds and meds" strategy drew new jobs to the area.
Pittsburgh didn't avoid the recession, he said, but weathered it better than other areas. Local officials are quick to point to a 7.7 percent unemployment rate in August, below the state and national average.
The White House and local officials are trying to contrast the city's rust belt reputation with a new focus on environmentally friendly technology. They note that the David L. Lawrence Convention Center, where the G-20 is being held, is the largest environmentally friendly center in the world.
"We still have steel mills, sure," Yablonsky said, but they're now mixed with high-tech jobs, including green industries.
A sign of this hangs from downtown skyscrapers in the steel city.
The sign reads, "Jobs, Good Jobs, Green Jobs."
E-mail to a friend

All About G20 Industrial Nations • Pittsburgh