ATLANTA, Georgia (CNN) -- With at least five people dead and massive expanses of land and roads under water, Georgia's governor declared a state of emergency Monday in the 17 counties hardest hit by flooding from severe weather.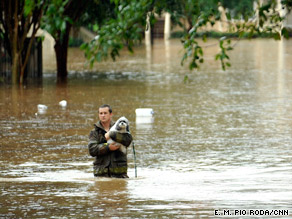 Atlanta firefighter Stephen Webb carries a dog to safety Monday at the Peachtree Park Apartments.
Gov. Sonny Perdue's announcement followed three deaths in north Georgia's Douglas County, one death in Gwinnett County and another in Carroll County, where a 2-year-old child was ripped from her father's arms by fierce floodwaters while he struggled to hold on to bushes, officials said.
Those counties, near Atlanta, were among the 17 included in the state-of-emergency declaration
About 100 miles north of Atlanta, in Chattanooga, Tennessee, one person was swept into rushing water and is presumed drowned, said Jeremy Heidt, a spokesman for the Tennessee Emergency Management Agency in Nashville.
Three missing children in Douglas County, west of Atlanta, were found, but their mother was one of the flood's fatalities, said Dena Brummer, a spokeswoman for the Georgia Emergency Management Agency.
"We're in rescue-and-recovery mode," said Wes Tallon, spokesman for fire and emergency management services in Douglas County. "It has not stopped raining, and another line of thunderstorms is coming."

Watch flooding one CNN.com staffer recorded »
Until just a few months ago, the area was gripped by drought.

Watch what caused the torrential rain »
Several storms moving northeast from the Gulf of Mexico brought the downpours, which forecasters expected to continue through Monday night. Rains were expected to taper off by Tuesday morning but scattered showers were expected for the next couple of days.
Just west of Atlanta, some areas have received about 22 inches of rain since last week, CNN meteorologists reported. About 12 of those inches fell in a 12-hour period from Sunday night to Monday morning.
After Georgia creeks and rivers burst, swollen by days of rain, residents struggled to escape.
In Cobb County's Austell, two rescuers paddled their way through rising flood waters searching for stranded victims, video from CNN affiliate WXIA showed. The pair on the inflatable, yellow raft ushered a stranded woman to a section of black-tarred street that was not under water.
Nearby, three men pushed their valuables in a kayak as they waded through the shoulder-high muddy waters. Another two men floated on what looked like air mattresses linked together by rope.

Watch men float on inflatable mattresses »
Near Marietta northwest of Atlanta, a flooded bridge blocked the only road out of a residential area surrounded by a national park and the Chattahoochee River. Two buses picked up elementary school children Monday morning, but flooding prevented them from picking up older students later, and the buses couldn't return with the first batch in the afternoon, said iReporter Pritam Jaipuriar, who lives there. See Pritam Jaipuriar's iReport
Some elementary students used a walking trail -- the only other path out of the area -- to return home. Some parents arranged for friends beyond the bridge to pick their children up from school and keep them for the day.
"My first-grader son is staying with a friend of mine," said Jaipuriar, who was unable to go to work Monday. Some ground-level apartments in the area were flooded, but his unit was fine, he said.
Unable to drive for supplies, some residents walked the path to a store a few miles away and returned with bags of groceries, said iReporter Jeff Cofer, who also lives there. See Jeff Cofer's iReport
Near northwest Atlanta's Vinings area, floodwaters encroached upon multimillion-dollar houses. Rescue personnel rode in boats over flooded streets Monday night, going home to home to pick up residents and take them away. Water levels were high enough at one home that the people there stood on a roof to await rescuers, a fire and rescue official said.
On Monday morning, a couple inches of water had entered the Villa Rica, Georgia, home of iReporter Walid Zeid, damaging suitcases and other things that were on the floor. Water from a flooded lake lifted his boat to the roof of his boathouse, crushing the boat's canopy, Zeid's iReport video showed.
Zeid, a flight attendant, was supposed to be on an international flight Monday, but flooding prevented him and his family from leaving home, which is in Carroll County. See Walid Zeid's iReport
"You can't go anywhere. The roads are washed up," he said.
The flooding from torrential rains drenching the metropolitan Atlanta area "has to rank as one of the worst," Matt Sena of the Peachtree City, Georgia, National Weather Service told CNN.

Watch home's yard become a lake »
Atlanta's Hartsfield International Airport in five days has received about 4.5 inches more rain than it usually would in all of September, he said. iReport.com: Floodwaters seep into Carroll County home
"Hundreds of roads have been closed" in the Atlanta area, Brummer said, adding that Carroll, Douglas and Paulding counties "have been impacted the most."

Watch I-75/85 under water »
Two of the Georgia fatalities involved people trying to drive through floodwater. A vehicle with one man in it was swept off a road in Douglas County, and a car carrying a woman was swept off a road in Lawrenceville in Gwinnett County, east of Atlanta, Brummer said.
Seydi Burciaga, 39, was driving to her Lawrenceville home from work when flash flooding trapped her in her vehicle, Gwinnett County police said.
She called 911 and police tried to locate her, but Burciaga could not tell them exactly where she was. Floodwater moved her car about 500 feet after she was swept off the roadway, and her attempts to guide rescuers to her by mentioning landmarks were unsuccessful, police said.
By the time rescuers found her minivan, she was dead, police said.
In Tennessee, the presumed drowning victim was forced into a culvert, or underground storm water drain, about 6 p.m. Sunday, Chattanooga Fire Department spokesman Bruce Garner told CNN. Sylvester Kitchens Jr., 46, was with a friend, Albert Miller, when the two decided to swim in a large, flooded ditch, Garner said. He said a Miller family member told him that "basically it was a bet."

Both managed to grab onto a chain link fence while being buffeted by the strong current, Garner said. A neighbor threw a garden hose for them to grab onto, and Kitchens reached for it but was unable to hold on. Miller clung to the fence for about 20 minutes and was eventually rescued by firefighters, Garner said.
Kitchens' body has not been found, said Garner, who added that it "doesn't appear he could've survived."

E-mail to a friend

CNN's Mallory Simon, Nicole Saidi and Jason Hanna contributed to this report.