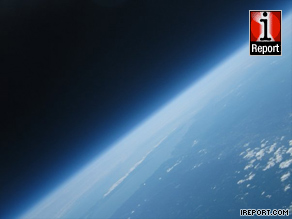 MIT students captured this photo from 18 miles above Earth.
This week in iReport, we're going to infinity...and beyond! Take a look at how MIT students on a budget captured images from the edge of space. Meet four veterans and hear why their struggles at home can be as bad as those at war. And finally, iReporters weigh in on what's up with all the recent public outbursts -- and may or may not be interrupted by a special guest. Check out the video here

, or get a better idea of the stories below.
• What if veterans had a stronger voice? Several citizen journalists took the iReport.com challenge to find and interview veterans about their biggest concerns. They looked for veterans on Facebook or through friends and found troops eager to share their stories and grateful to meet strangers who would listen. The veterans told stories about struggles at home that rival their wartime experiences.
Don't Miss
• Public civility -- Kanye West's onstage interruption of country singer Taylor Swift at the MTV Video Music Awards was the third in a string of public outbursts that set off a debate about the meaning of civility in our time. iReporters shared their thoughts on the incidents and gave us their take on the manners discussions taking place at home at the dinner table.

Adriana Maxwell of Marietta, Georgia, found that her children were able to relate the incidents to their own life experiences. They proved to be a good teaching opportunity for her. Other iReporters responded with their own commentary, including one animated short from video cartoonist Carter MacDowell.
•To boldly go... A pair of MIT graduate students shared iReport photos they took from 18 miles above the Earth. They used a helium weather balloon to lift their camera rig into the stratosphere. The photos they got back showed the curvature of the Earth and the blackness of space. High altitude ballooning isn't new, but it's kind of expensive. They were able to do it for just $150 by putting a Canon digital camera and a disposable cell phone in a Styrofoam cooler along with some hand warmers to keep the equipment's batteries from freezing.
E-mail to a friend