By Christine Romans and Jennifer Icklan
CNN





Editor's note: Watch the full interview with Serena Williams on "Your $$$$$" Saturday at 1 p.m. ET and Sunday at 3 p.m. ET on CNN.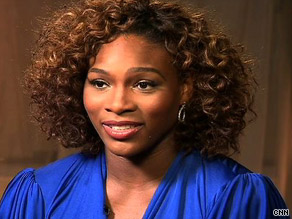 Serena Williams says she believes she apologized for her actions promptly and completely.
NEW YORK (CNN) -- Serena Williams just wants to move on. But the controversy around her obscenity-laced tirade at a line judge at the U.S. Open continues.
Williams, 27, said she was "in the moment" and doesn't really remember her now-famous outburst at a line judge who had called a foot fault. It was a 12-second verbal attack that has played over and over for three days.
"It was a really tough point in the match and it was really close and got a really tough call that wasn't the correct call, and, you know, things got a little heated and I had a conversation with the line judge that didn't go so well," Williams said.
Williams, ranked No. 2 in the world by the Women's Tennis Association, said she does not recall moments of Saturday's incident but believes she apologized for her actions promptly and completely.

Watch Williams talk about call »
"I couldn't apologize any sooner, and then also I learned from my mistakes ... I was talking to [former Giants defensive end] Michael Strahan earlier today and he said how, when he's out there you're so intense. Obviously, when you get a bad call, it's like 'What's going on?' So when you're in the moment, you are just there. You don't really quite remember exactly what's going on," Williams said.
Williams found herself explaining her outburst while promoting her recently published memoir, "On the Line," in which she details growing up the youngest of five sisters, her struggles on the court and off, and her positive messages of inspiration, especially to her younger fans.
"Those kids probably just need to know it's great to be a competitor, how passionate someone is, and just making the right decisions at the right time -- realizing that, hey, everyone falls, 'Wow, she's human, she made a bad decision, a bad choice.' "

Williams added, "I am not a robot. I have a heart and I bleed."
In the aftermath of Saturday's match, tournament officials fined Williams $10,000 for unsportsmanlike conduct and $500 for smashing a racket during the same event. So far, no suspensions have been served, but the United States Tennis Association has said that it has launched an investigation into the incident.
E-mail to a friend

All About Serena Williams • U.S. Open - Tennis • Tennis