By Samira Simone
CNN





(CNN) -- The Tennessee community that was buried under more than a billion gallons of coal sludge last year is getting $40 million from the nation's largest public utility for economic development projects.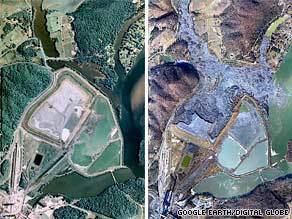 On December 22, 1.1 billion gallons of coal ash sludge smothered 300 acres in East Tennessee.
However, some say the cash from the Tennessee Valley Authority is for nothing more than a facelift for Roane County, and they argue that it will do little to address their environmental and medical concerns.
The enormity of the December spill at the TVA's power plant in Kingston was unprecedented, with enough waste to fill nearly 800 Olympic-size swimming pools. The sludge, a byproduct of the ash from coal combustion, coated 300 acres, a bigger area than the 1989 Exxon Valdez oil spill.
The $40 million is to pay for projects such as improvements to infrastructure and recreation, "so we can help improve quality of life," TVA spokeswoman Barbara Martocci said Monday.
The projects will have to be approved through a foundation made up of four TVA officials and four local elected officials, three of them mayors.
"This foundation offers an important opportunity for achieving local projects for the benefit of local citizens," Kingston Mayor Troy Beets said in a statement through the TVA. "As the foundation board, we will begin our work together by first considering the projects that our communities have identified as priorities."
But some residents of the area 35 miles west of Knoxville aren't buying it.
"Initially, it looks like a good deal," said Sarah McCoin, who lives about a mile from the spill site. "In reality, you have a situation that will only be politically correct."
Residents are afraid of the chemicals that were released into the environment: arsenic, selenium, lead and radioactive materials including chromium and barium. They say fly ash is still visible in the air, and many complain of medical issues they believe are linked to the disaster, ranging from headaches to respiratory ailments.
"Our environment is damaged, and there are people here who are really, really sick," McCoin said. "We are continually fighting respiratory problems."
McCoin said the big problem is fly ash from the sludge, which gets into the air during dry spells. The TVA routinely sprays the ash down, but it's only a temporary fix.
The TVA says contact with wet coal fly ash does not present a serious health risk, though direct skin contact may cause localized irritation.
In a statement on its Web site, the agency says: "Testing of the Kingston ash samples shows that concentrations of metals are well below the limits for classification as a hazardous waste." It also says there's been rigorous testing of public drinking water supplies, private wells and river water -- and all have met safety standards.
The TVA and the Environmental Protection Agency have released reports indicating that the air, water and general environment are safe. They say the levels of toxic chemicals found in coal ash do not exceed federal standards. As of mid-May, the TVA said it had taken 44,000 air samples; none had indicated health concerns.
Even so, hundreds of civil complaints -- lumped into eight lawsuits, four of them class-action -- have been filed against the TVA, demanding reparations for property damage, trespassing, mental anguish, medical issues and scores of other allegations.
The $40 million announced Monday is part of a larger fund set up for clean-up efforts, Martocci said.
But it has nothing to do with possible settlements in the future, said one environmental lawyer representing Roane County plaintiffs.
The residents "won't a get a penny of this" TVA funding, attorney Gary Davis added.
E-mail to a friend

CNN's Stephanie Smith contributed to this report.
All About Tennessee Valley Authority