By Susan Candiotti
CNN





(CNN) -- Investigators probing the disappearance of a Yale University graduate student were testing bloody clothes Sunday and searching a landfill.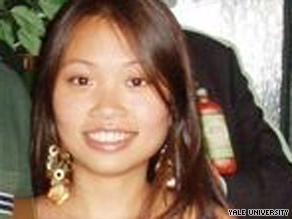 Annie Le, 24, has not been seen by family, friends or co-workers since Tuesday, police say.
The clothes were found hidden in ceiling tiles in the Yale medical research building where Annie Le was last seen Tuesday, a law enforcement source close to the investigation told CNN.
The FBI said only that it is examining materials that have been discovered and may be linked to the case.
"All I can say is items that could potentially be evidence have been seized. None have yet been associated with Annie Le," FBI Agent in Charge Kim Mertz said Saturday at a news conference in New Haven, Connecticut .
The law enforcement source told CNN bloody clothes are among the potential evidence being tested to see whether the blood is Le's.
Mertz said the items found are being tested in more than one laboratory, but declined to say where. It is not uncommon for the FBI to help local police departments by using its laboratory in Quantico, Virginia. The Connecticut State Police also has a forensics lab in Meriden.
William Reiner of the FBI's New Haven office said Sunday that investigators are searching a waste facility that normally handles garbage from the Yale lab. He described it as a routine step.
"In a situation like this, it's common for us to follow the trash," Reiner said.
The search was taking place at the Connecticut Resources Recovery Authority landfill in Hartford.
The FBI has not concluded whether "criminality is involved" in the case, Mertz said.
Yale officials said at least 100 investigators, including agents with the FBI, New Haven police and Connecticut State Police, are assisting in the probe.
Le was last seen on a Yale security camera entering a medical research building at about 10 a.m. on Tuesday. Investigators say they've spoken with students and others in the building who confirm she was there.
Authorities have not found images of her leaving the building. The FBI says investigators are reviewing the video "frame by frame."
Le, 24, was to be married Sunday in Long Island, New York. Her fiance, Jonathan Widawsky, is a graduate student at Columbia University in New York.
Yale Vice President and Secretary Linda Lorimer said Saturday there is "no reason to believe" that Le may have run away.
E-mail to a friend

All About Yale University School of Medicine • New Haven • Federal Bureau of Investigation