NEW YORK (CNN) -- Melanie Oudin, who was swept aside in the U.S. Open tennis quarterfinals after impressive early wins, was philosophical but disappointed Thursday, calling the effort "a good learning experience."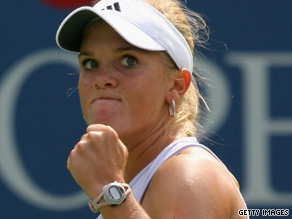 Melanie Oudin plays in the quarterfinals of the U.S. Open tennis championship Wednesday evening.
Oudin, 17, of Marietta, Georgia, was ranked 70th in the world on Saturday when she defeated Maria Sharapova, the No. 29 seed and former No.1-ranked player. On Monday, she beat 13th seed Nadia Petrova in three sets.
But on Wednesday, she was ousted in the quarterfinals by ninth-seeded 19-year-old Caroline Wozniacki 6-2, 6-2. Oudin was the youngest American to advance so far at any Grand Slam event since Serena Williams a decade ago.
After her victories, Oudin was mobbed by the media, and the pressure was on.
"It's been hard. It's definitely different than what I'm used to," she told CNN's "American Morning."
"It's been lots of media and lots of different things happening," she explained. "All in all, it was good for me, and it's a good learning experience."

Watch Melanie Oudin talk about her remarkable U.S. Open run »
"I gained confidence in this tournament that I can do this again, hopefully -- that I can compete with the best in the world. My confidence has definitely gone up."
Last year, Oudin entered the U.S. Open as a wild card, and was eliminated in the first round.
Don't Miss
"It was so much better (this year). I wanted to get revenge this year because I was really disappointed losing last year," she said. "I'm really proud of myself for how I did."
Asked how she felt about her performance Wednesday, Oudin replied, "I knew that I wasn't playing as well as I had in past matches, so it was going to be hard to try to come back, and I did try. But Caroline was too strong of a player and she didn't let me back in the match at all."
CNN's John Roberts pointed out that Wozniacki appeared almost apologetic after winning, and he quoted her as saying after her victory, "I'm sorry I won against Melanie today. I know many of you guys wanted her to win but hopefully I won many of you guys' hearts, and you'll be cheering for me in my next match."

"Caroline's a very nice girl," Oudin observed.
Her next tennis tournament will be in Asia.
E-mail to a friend

All About Melanie Oudin • U.S. Open - Tennis