By Kristen Hamill And Eliott C. McLaughlin
CNN





NEW YORK (CNN) -- Police are searching for a Yale University graduate student, reportedly a bride-to-be, who disappeared and was last seen outside a school of medicine building.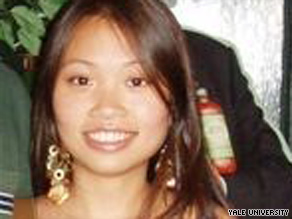 Annie Le, 24, has not been seen by family, friends or co-workers since Tuesday, police say.
Co-worker Debbie Apuzzo told CNN affiliate WTNH-TV that Annie Le, 24, is scheduled to be married Sunday, and "her fiance hasn't heard from her."
"Annie Le's purse containing her cell phone, credit cards and money were left in her office," a Yale University Police Department news release said, adding that friends, family members and co-workers had not heard from her since Tuesday.
CNN has calls in to the Yale Office of Public Affairs, which is handling all Yale Police Department requests.
Bill Reiner in the FBI's New Haven office said the university "asked for our assistance; we are assisting them. We are not getting into any details."
Officer Joseph Avery of the New Haven Police Department said he believes New Haven police are working closely with Yale authorities, but he wasn't certain in what capacity.
"Right now, it's their case, and I can't comment," he said.
Apuzzo, an accountant in Yale's Department of Pharmacology, told CNN affiliate WFSB that Le was conscientious, energetic and "very excited" about getting married.
Contacted via e-mail by CNN, Apuzzo declined to comment, citing a letter sent by Yale University Police Chief James Perrotti to all faculty, students and staff.
The letter states Yale police, the FBI, Connecticut State Police and New Haven police are investigating Le's disappearance.
"The State Police have searched the area of Ms. Le's last known appearance with their bloodhounds; law enforcement officers are continuing to undertake detailed searches of the surrounding area; and security officials are reviewing images from closed-circuit cameras in the area," the letter said.
It was unclear when Le was scheduled to be wed, but several media outlets reported that her fiance, Jonathan Widawsky, is a graduate student at Columbia University in New York. Widawsky could not be immediately reached.
A university surveillance photo showed Le was wearing a knee-length brown skirt, a bright-green short-sleeved T-shirt, brown shoes and a brown necklace.
She is 4-foot-11-inches tall, weighs 90 pounds and has shoulder-length brown hair.
She was last seen outside the 120,000-square-foot Yale School of Medicine building on 10 Amistad St. The four-story building houses three of the school's research programs.
Le, 24, is a pharmacology graduate student.
According to the Yale police news release, Le had no known medical issues. She also does not have access to a vehicle, police said.
Anyone with information on Le's disappearance can call university police at (203) 432-4400.
E-mail to a friend

All About Yale University School of Medicine • New Haven